Blog
Hexagons
So here we are beginning my new Block of the Month - Bowie Stars. It's no surprise it's a giant hexagon, as you all know I love them!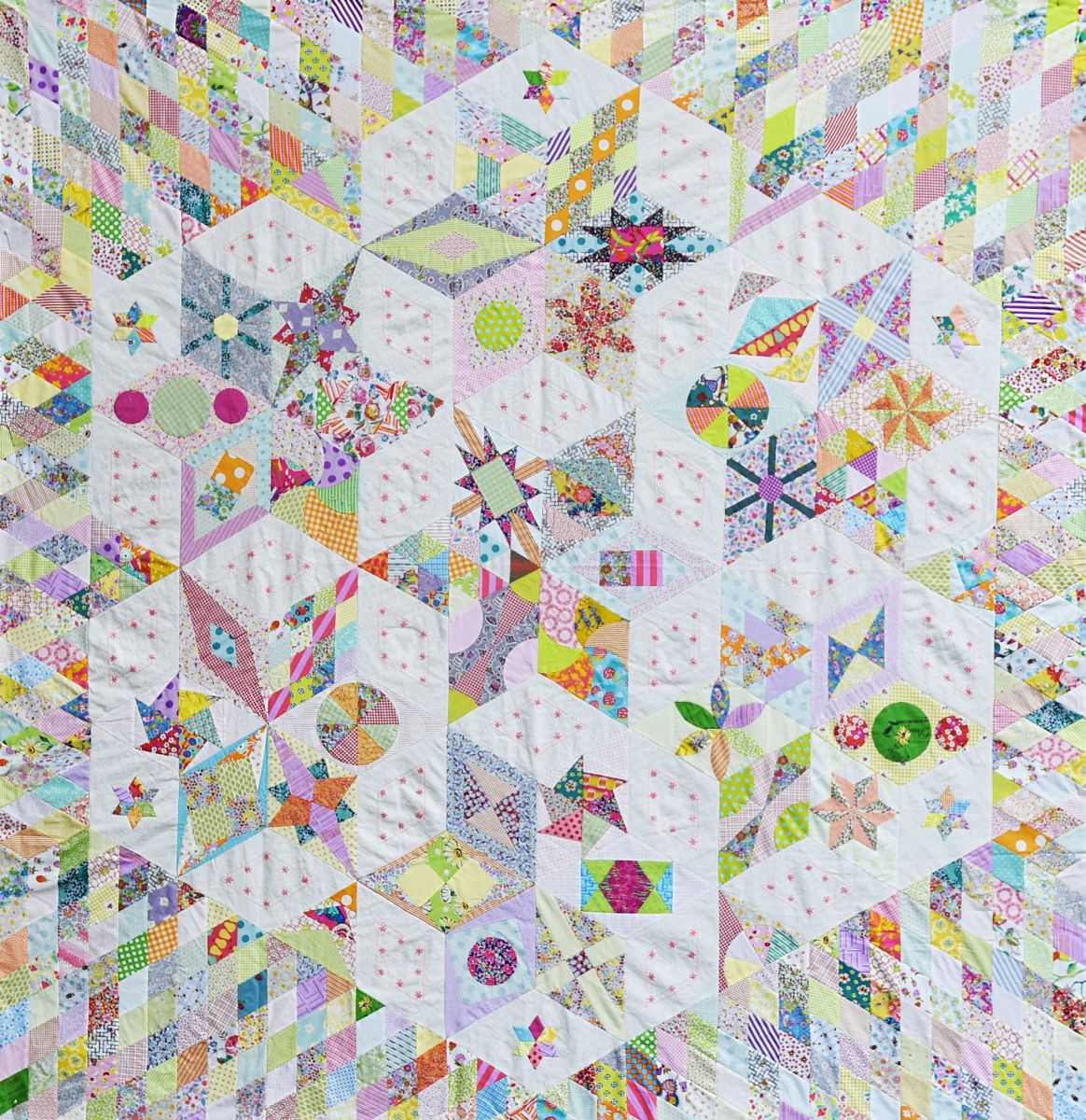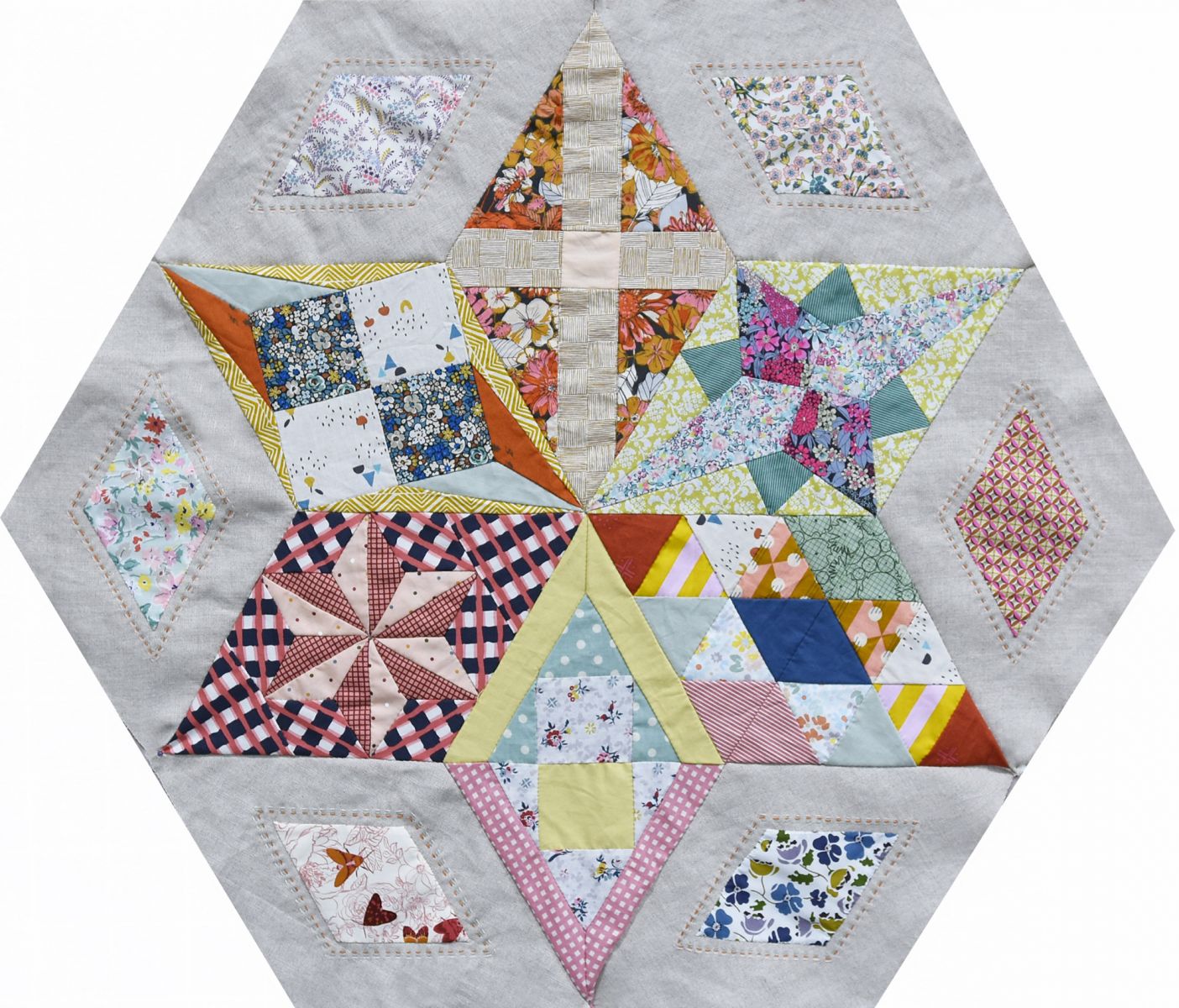 My very first quilt was a grandmother's flower garden. I had gathered scraps of fabric from the floor of my mother's best friend Mavis's sewing room since I was a child. When I started my nursing training, on night one in the nurses' accommodation home I found several people stitching EPP hexagons... So, it seemed the natural thing was to gather all those scraps I'd been saving and join in.
This quilt contains corduroy, jersey, seersucker...all joined by a lovely piece of the cheapest poly-cotton. I had no idea what I was doing but boy I enjoyed that journey. And as a result, hexagons have been a favourite ever since.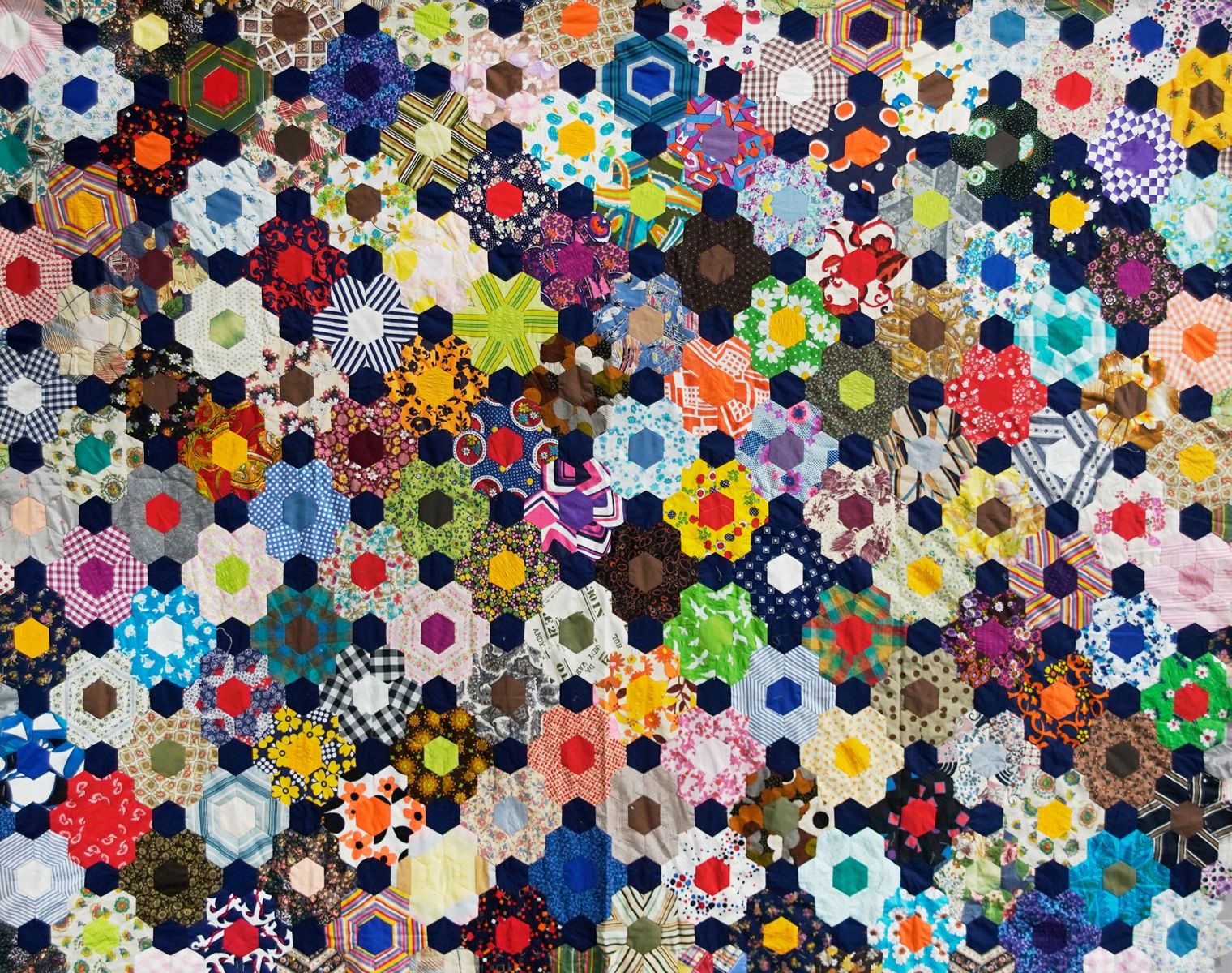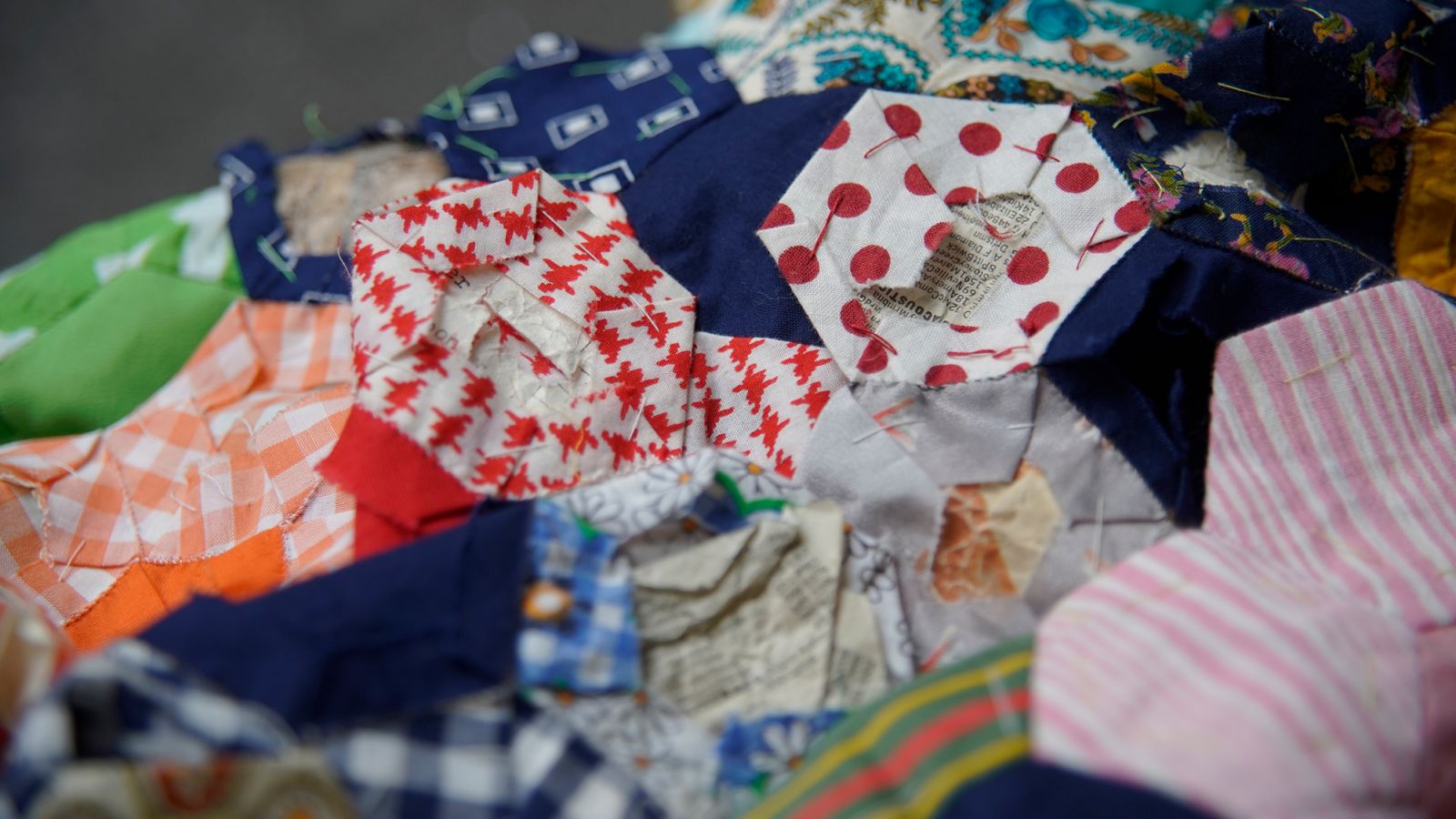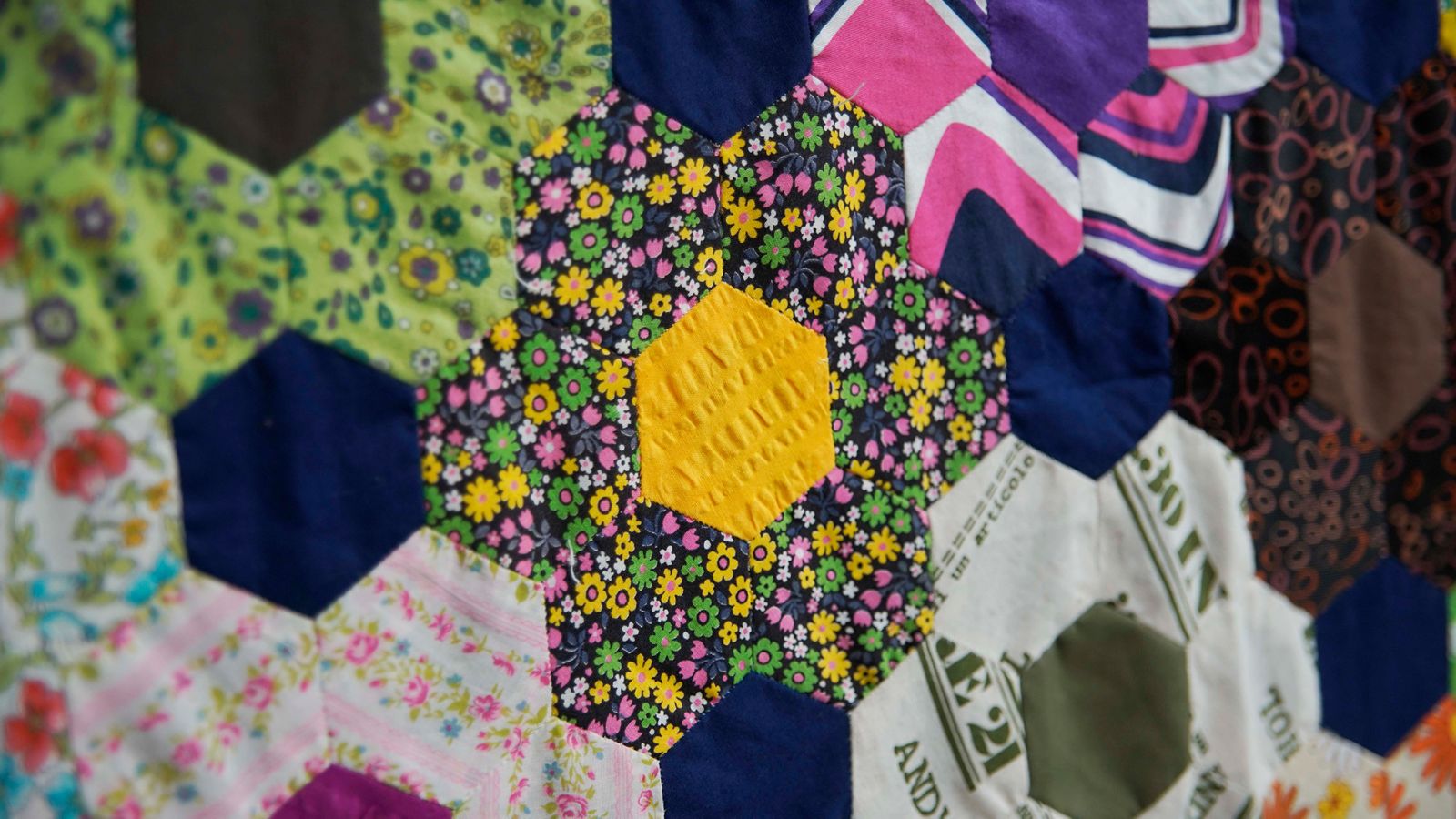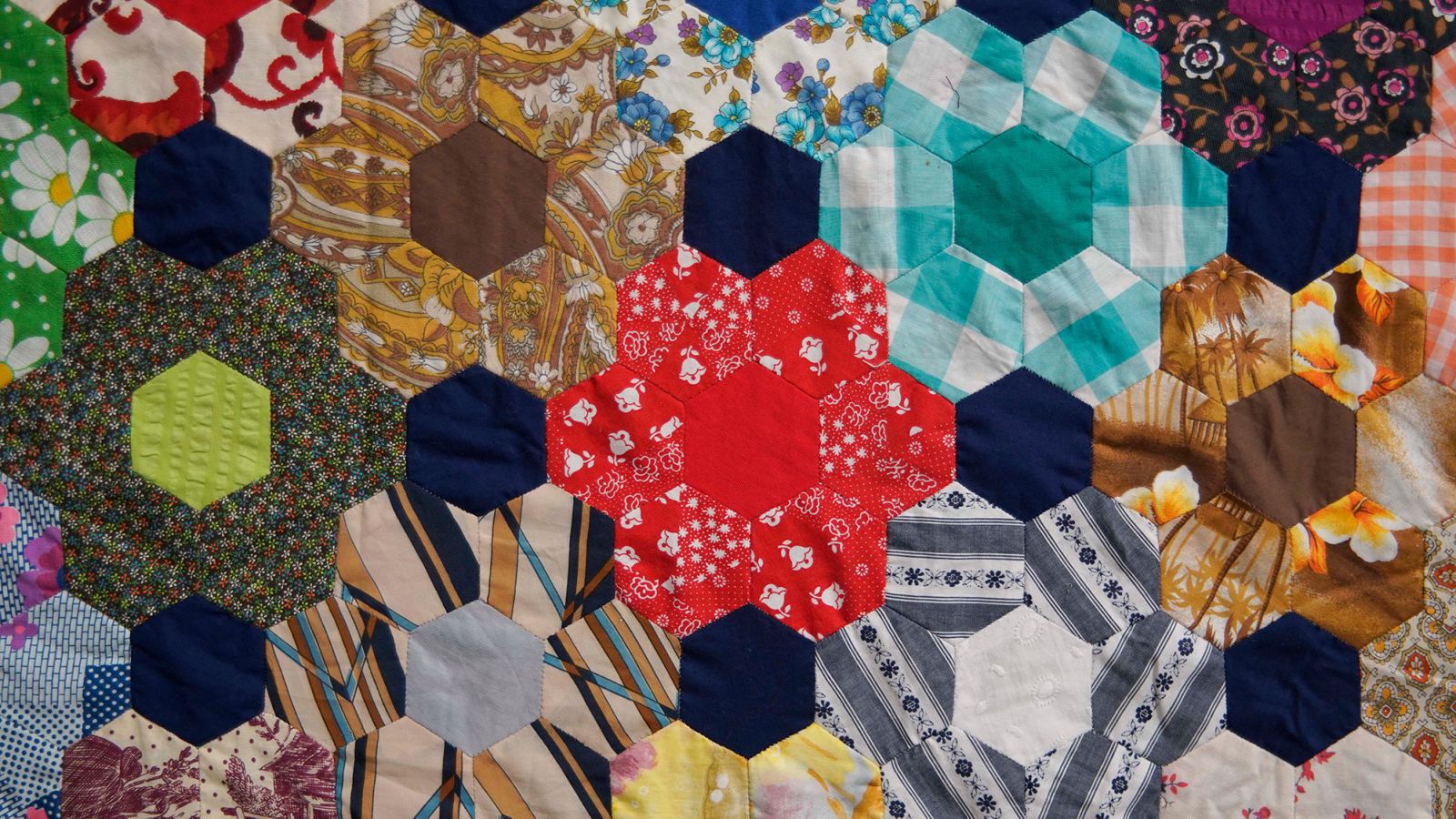 This next quilt was made in around 2004-2005? when this beautiful piece of Japanese cotton/linen blend appeared instore. I made this strippy row quilt containing different pieced hexagons. This was my first attempt at pieced hexies, and I have loved them ever since. The fabric sold quickly, and the quilt was never finished.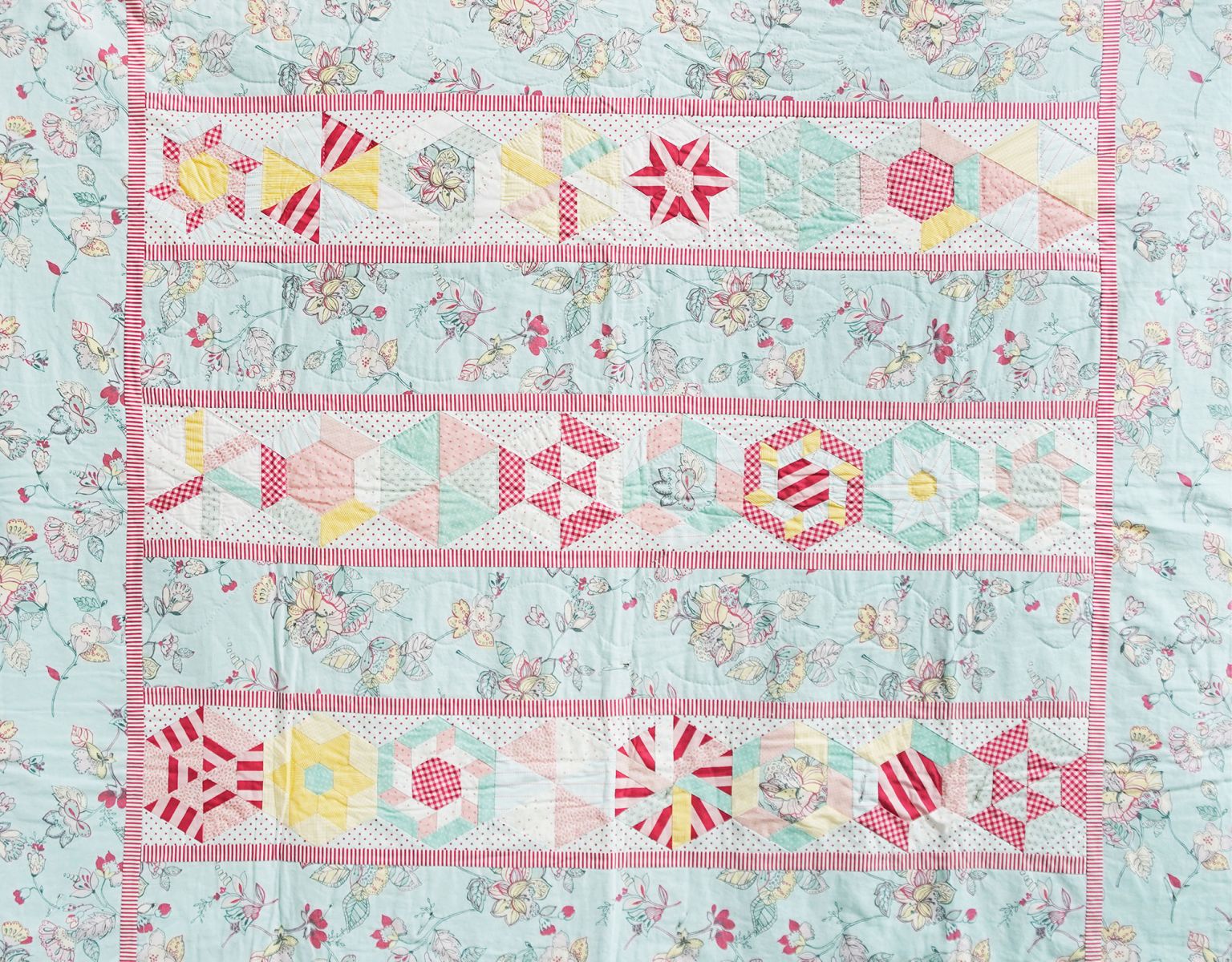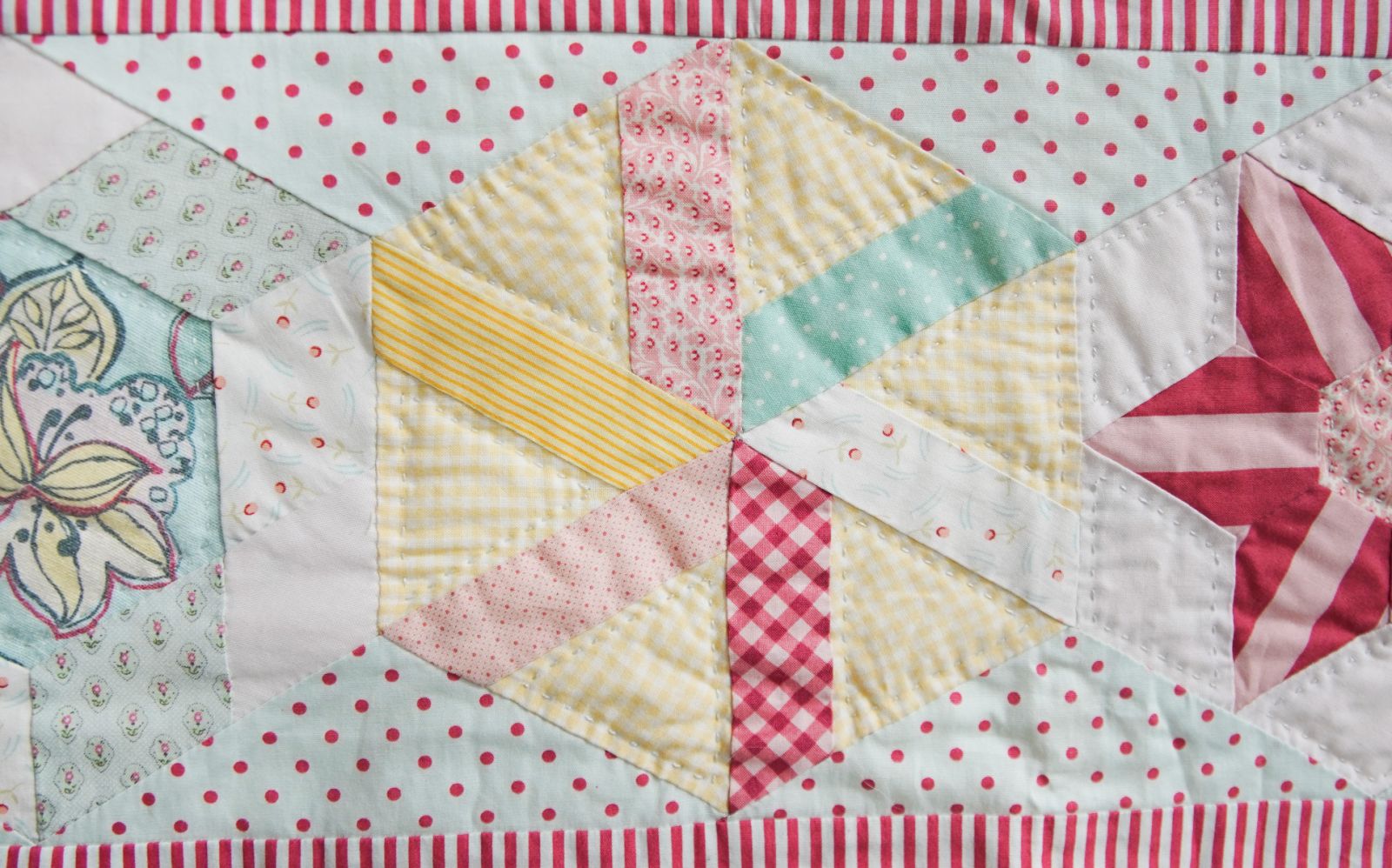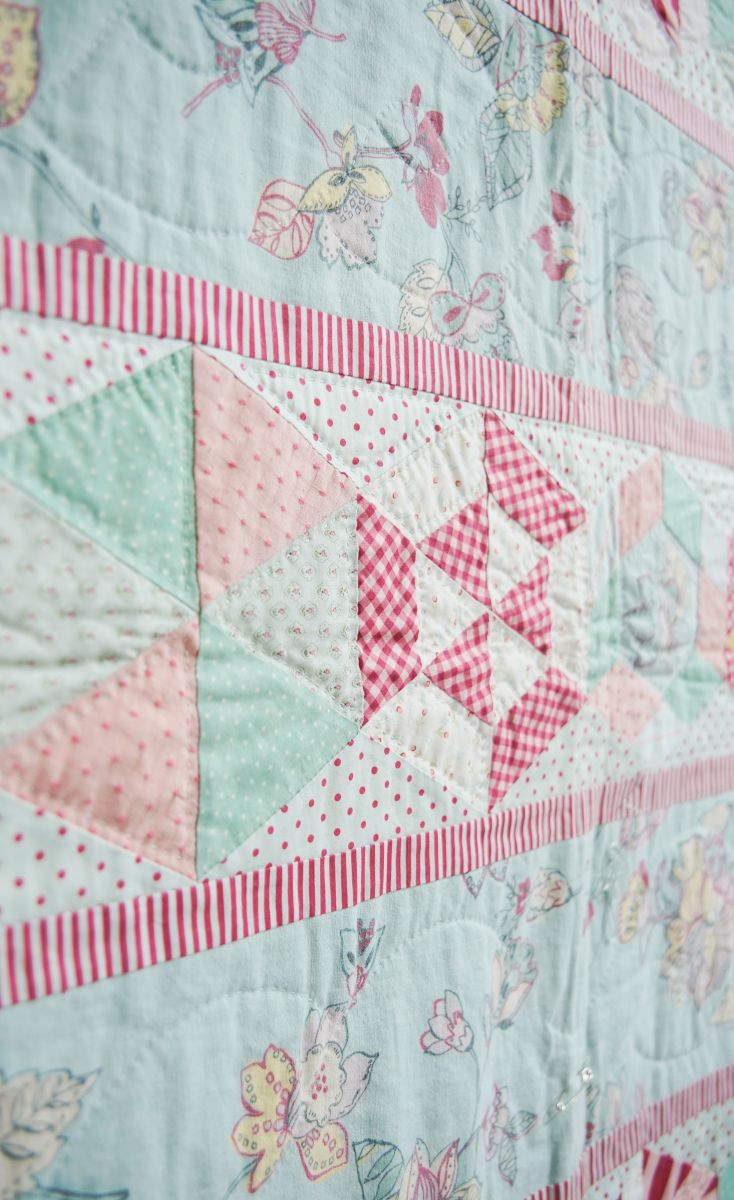 I have over the years incorporated hexagons in:
...Appliqué flowers (Bring Me Flowers)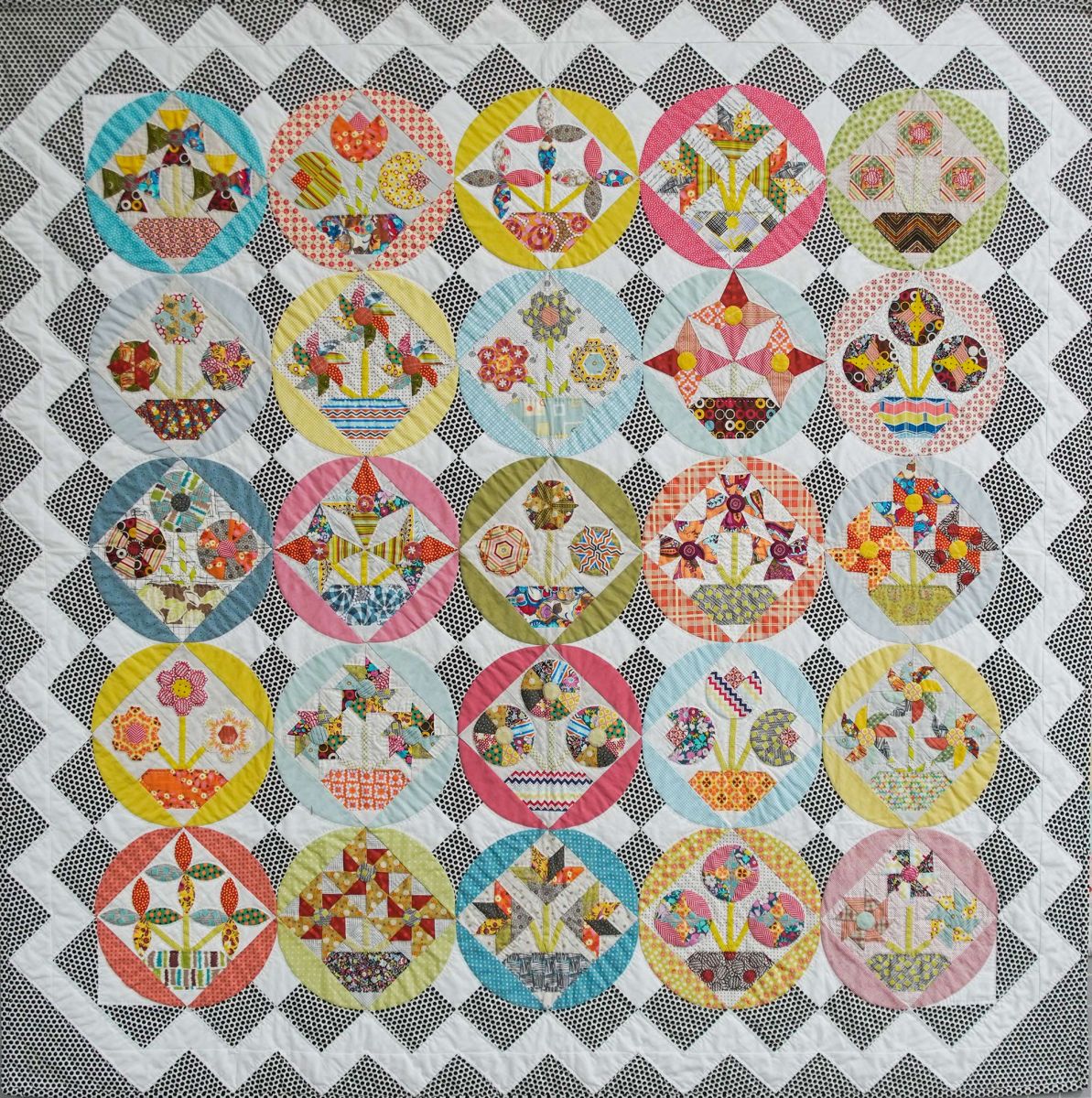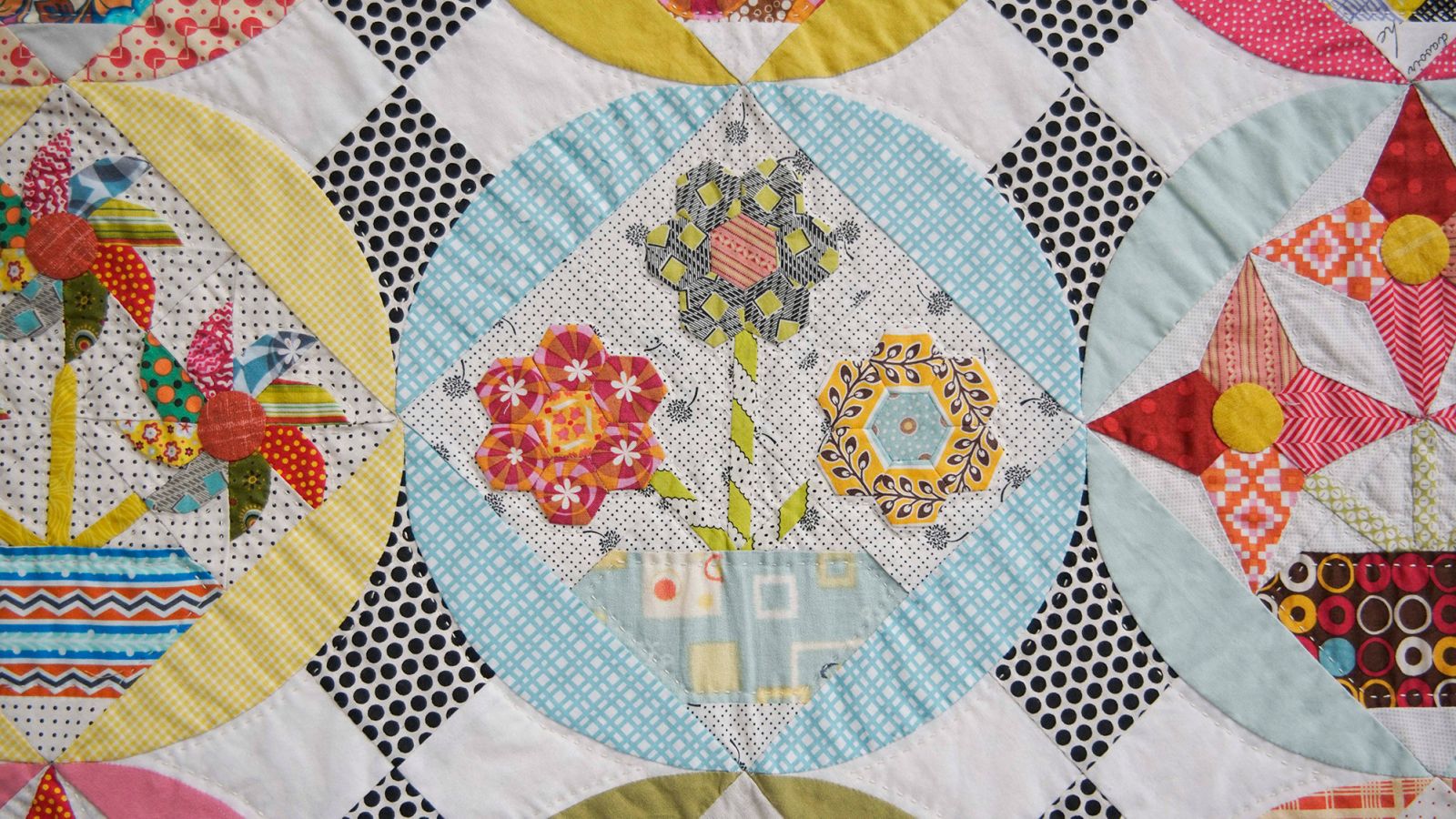 ...Appliqué borders (Happy Birds)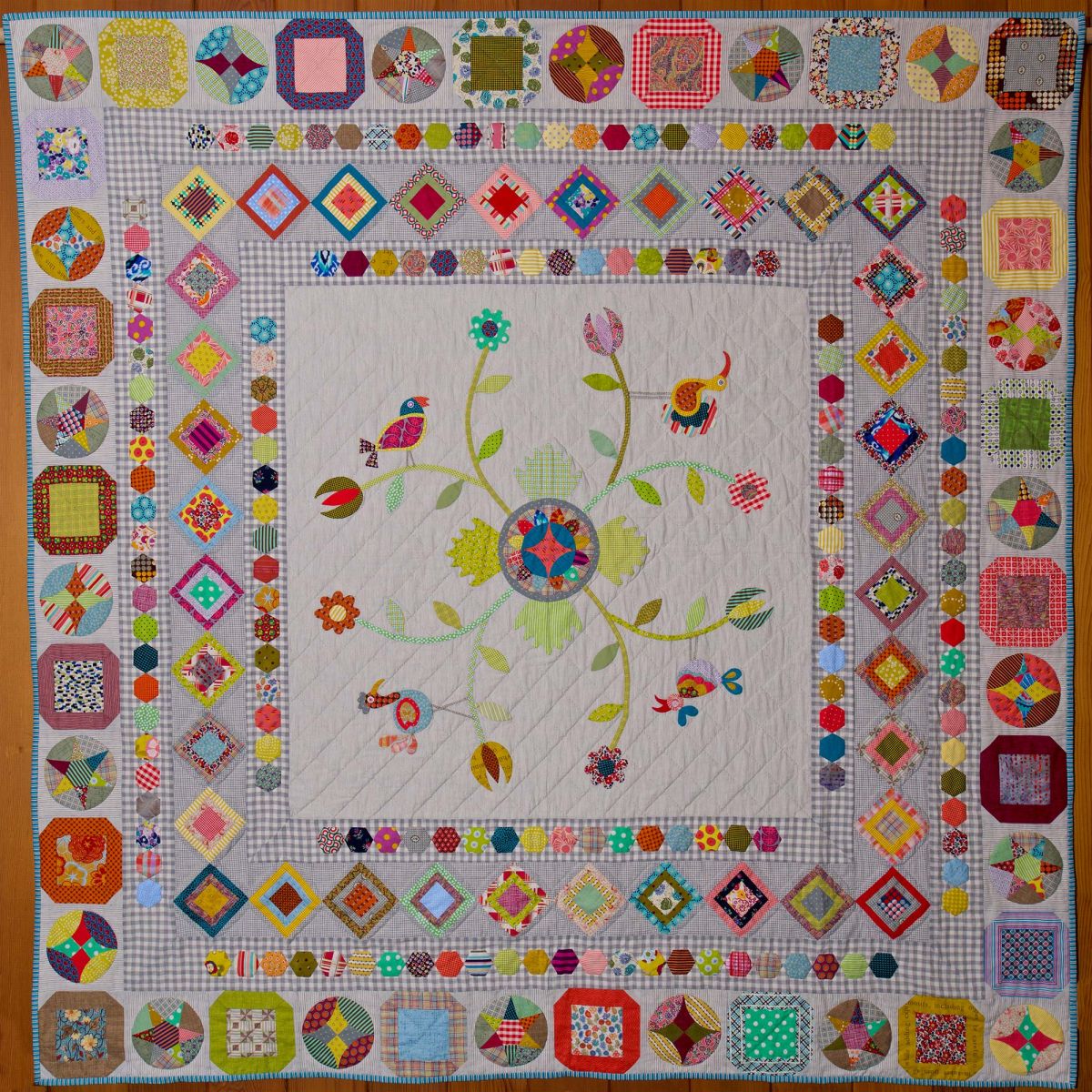 ...Appliqué panels (Green Tea & Sweet Beans)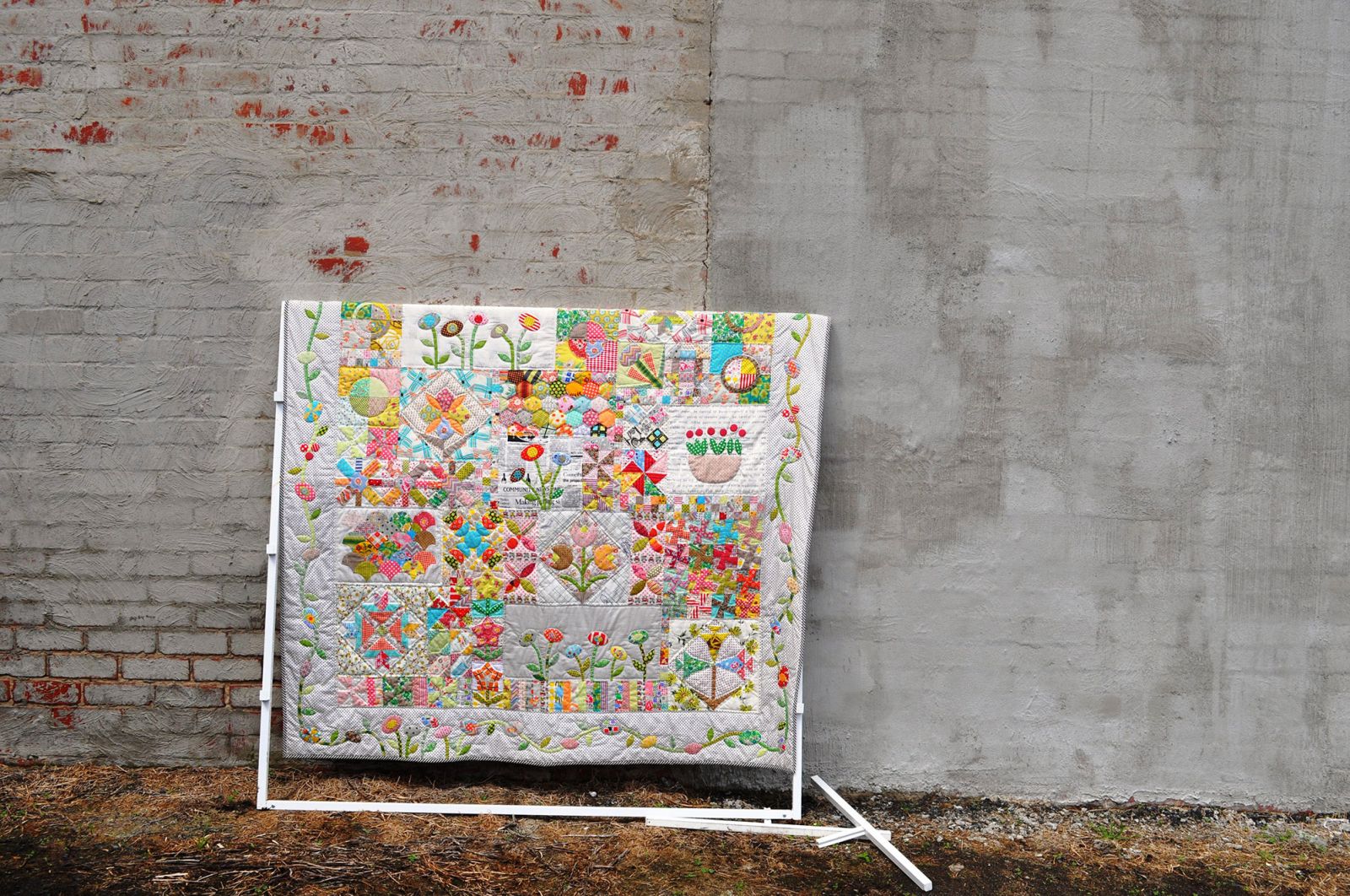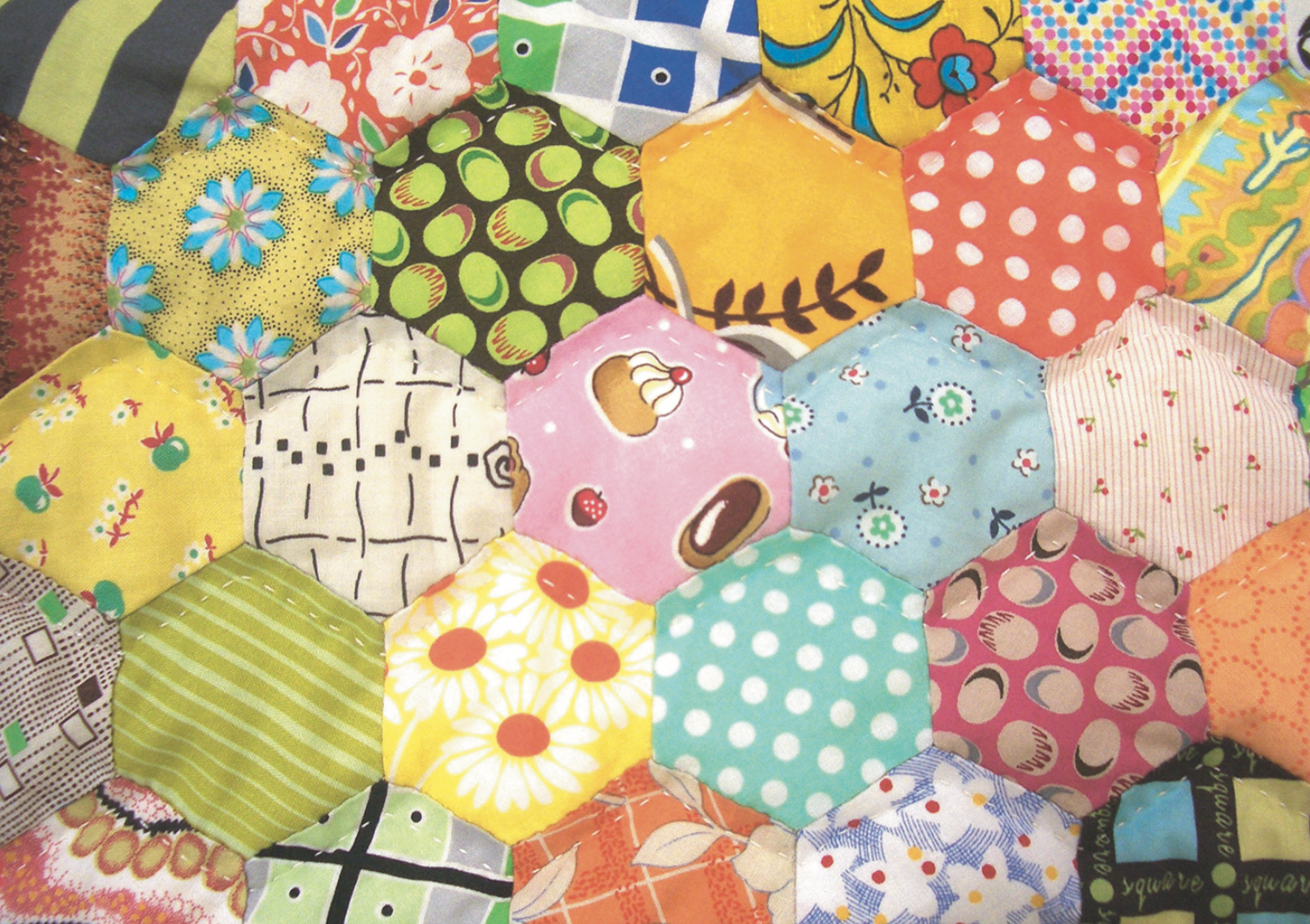 ...Pieced blocks (Golden Days)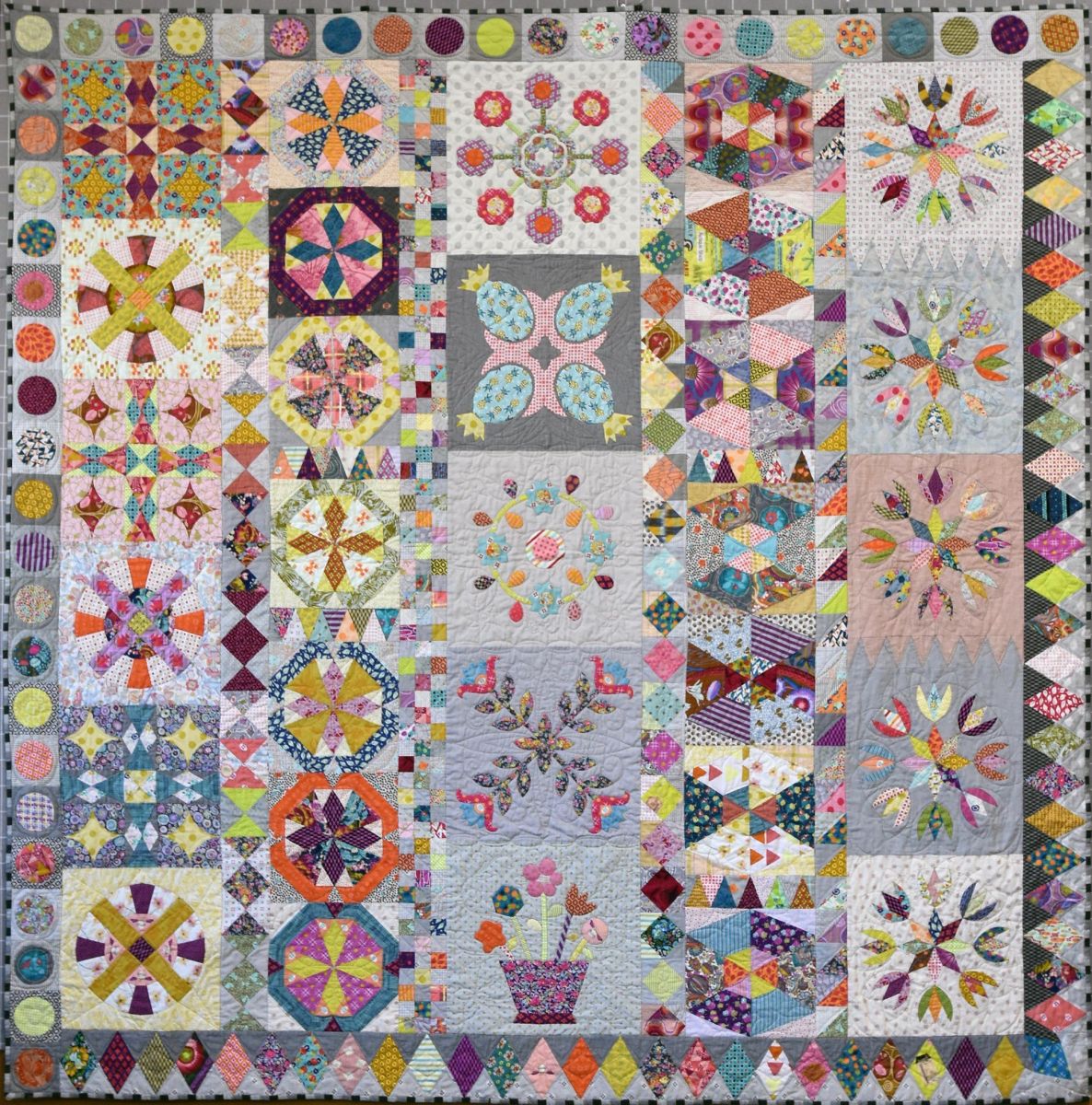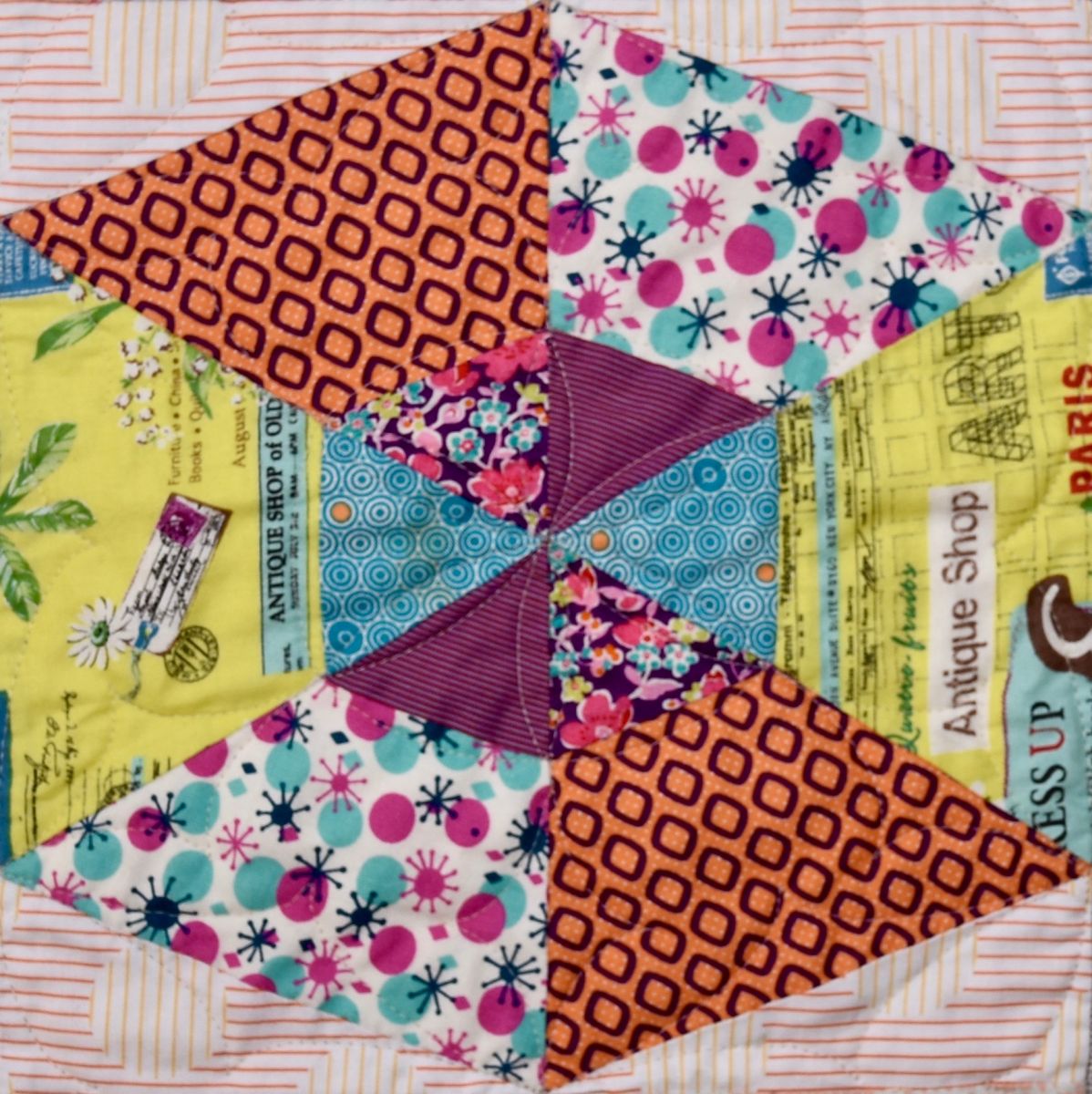 ...Hexagon log cabin cushion
…Cute pincushions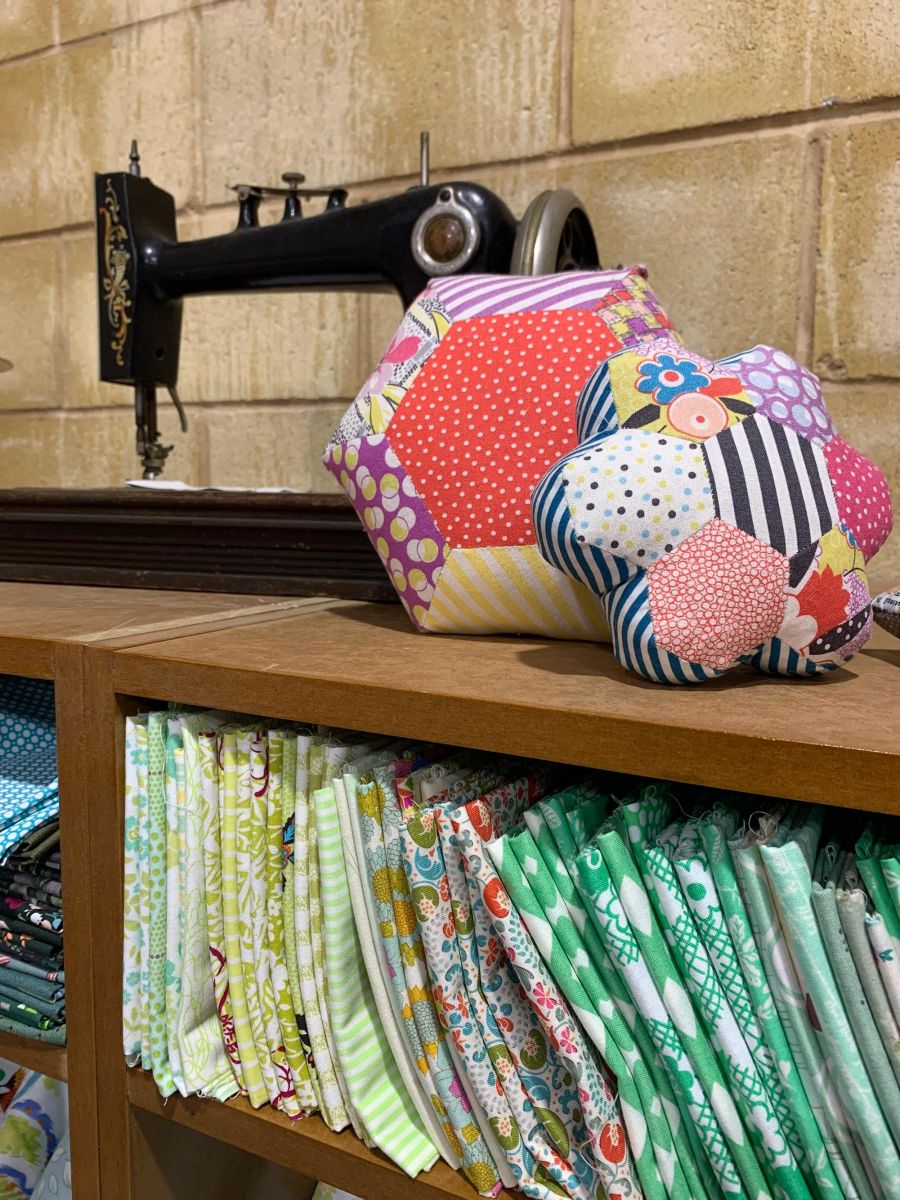 …Quilt as you go hexies – More on these soon!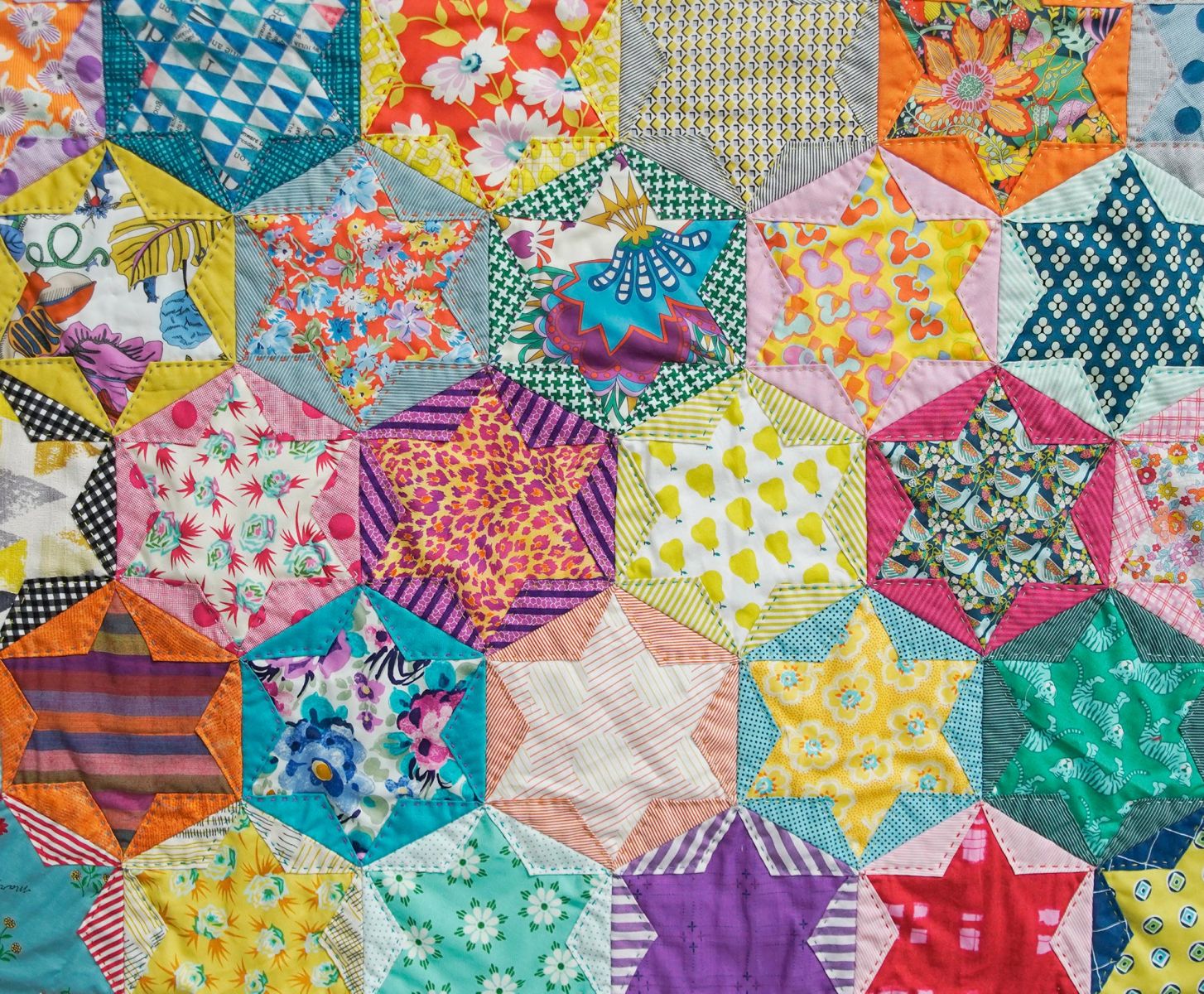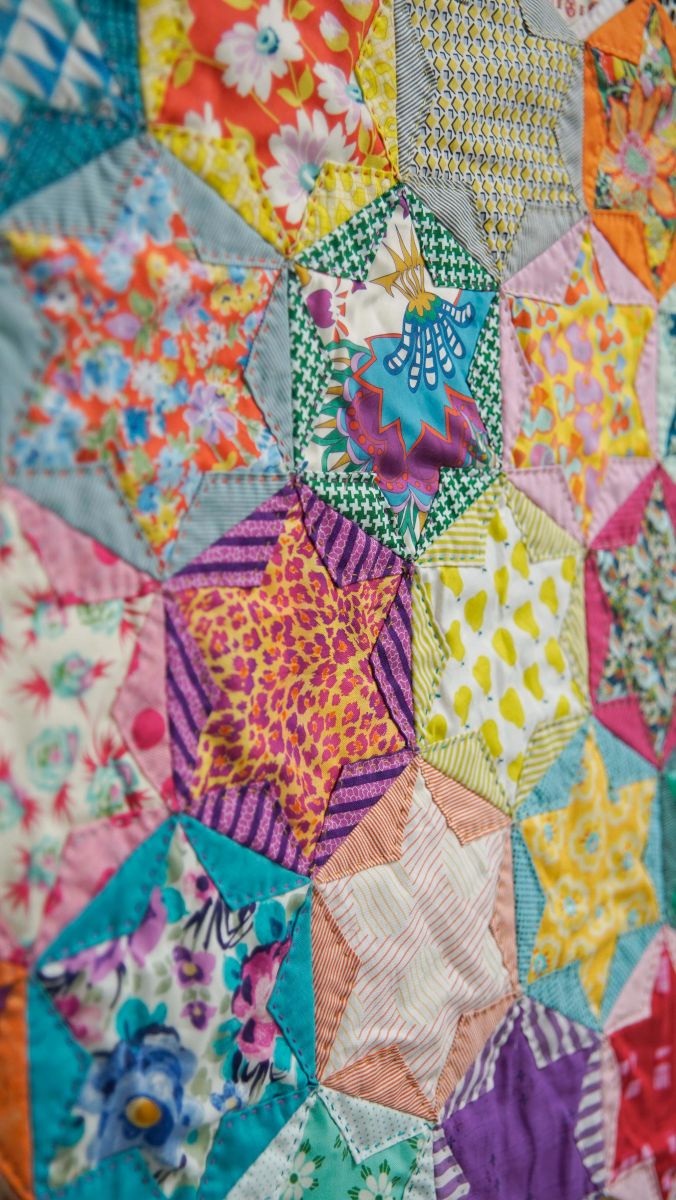 ...and my new love, Postcard Projects!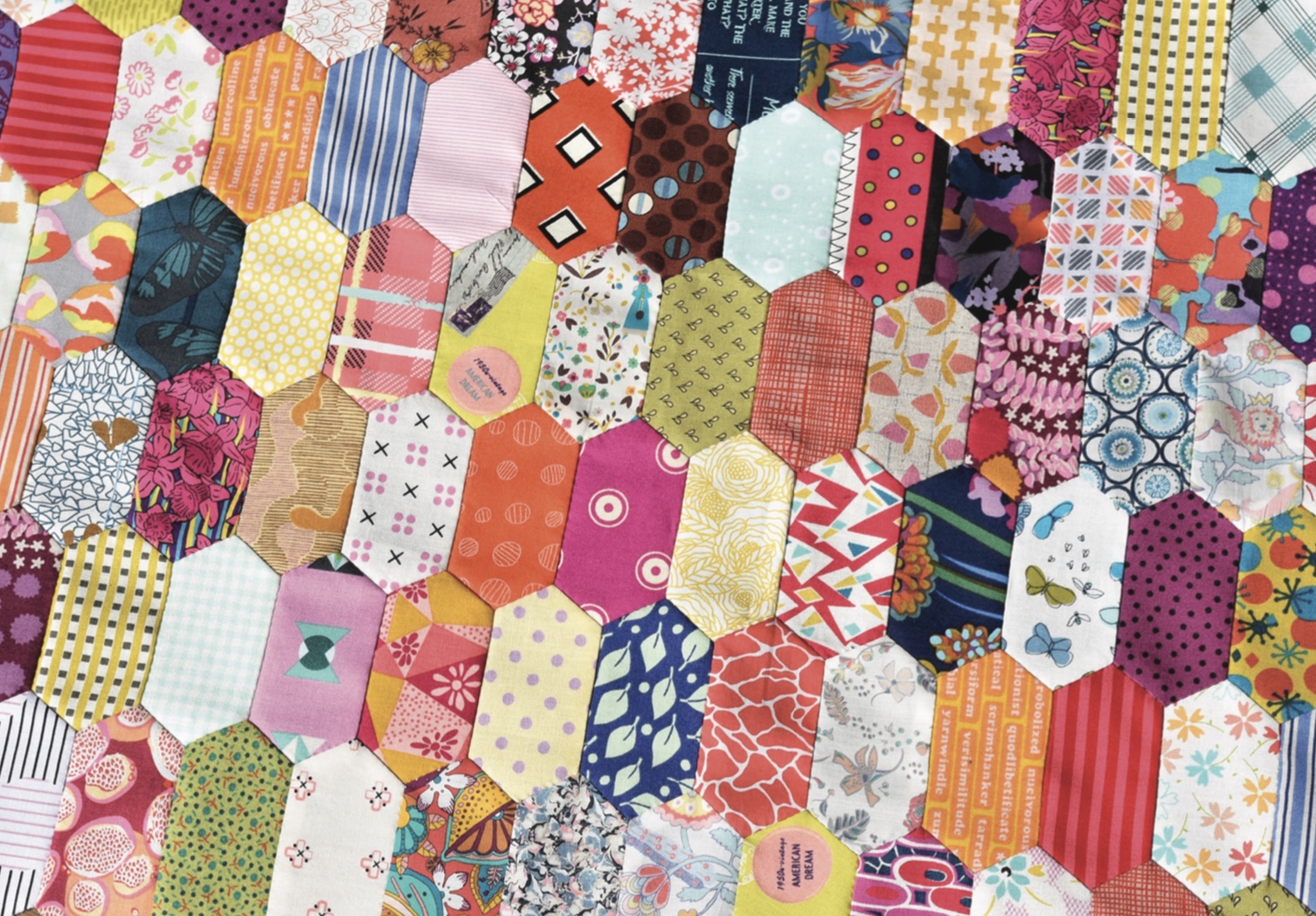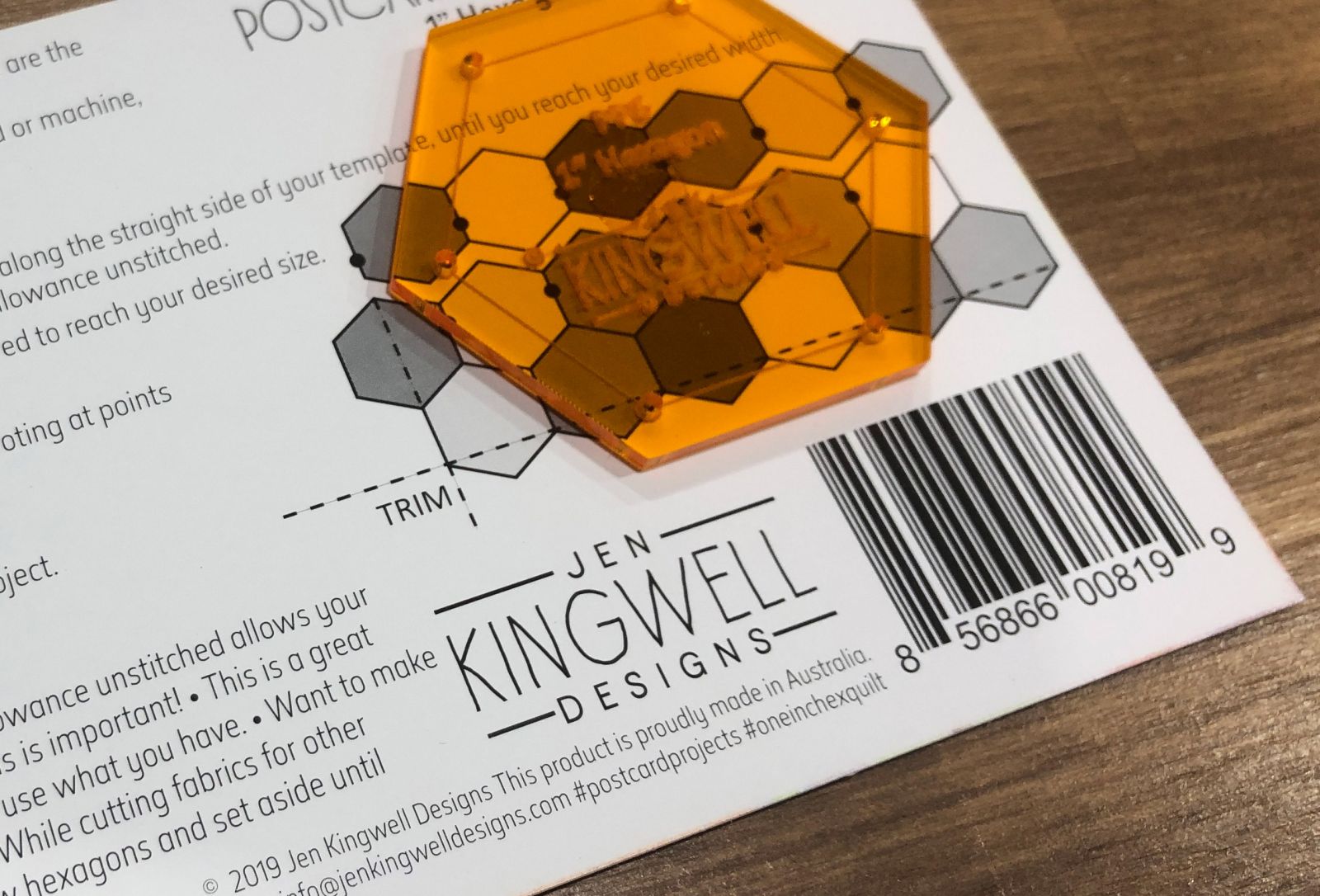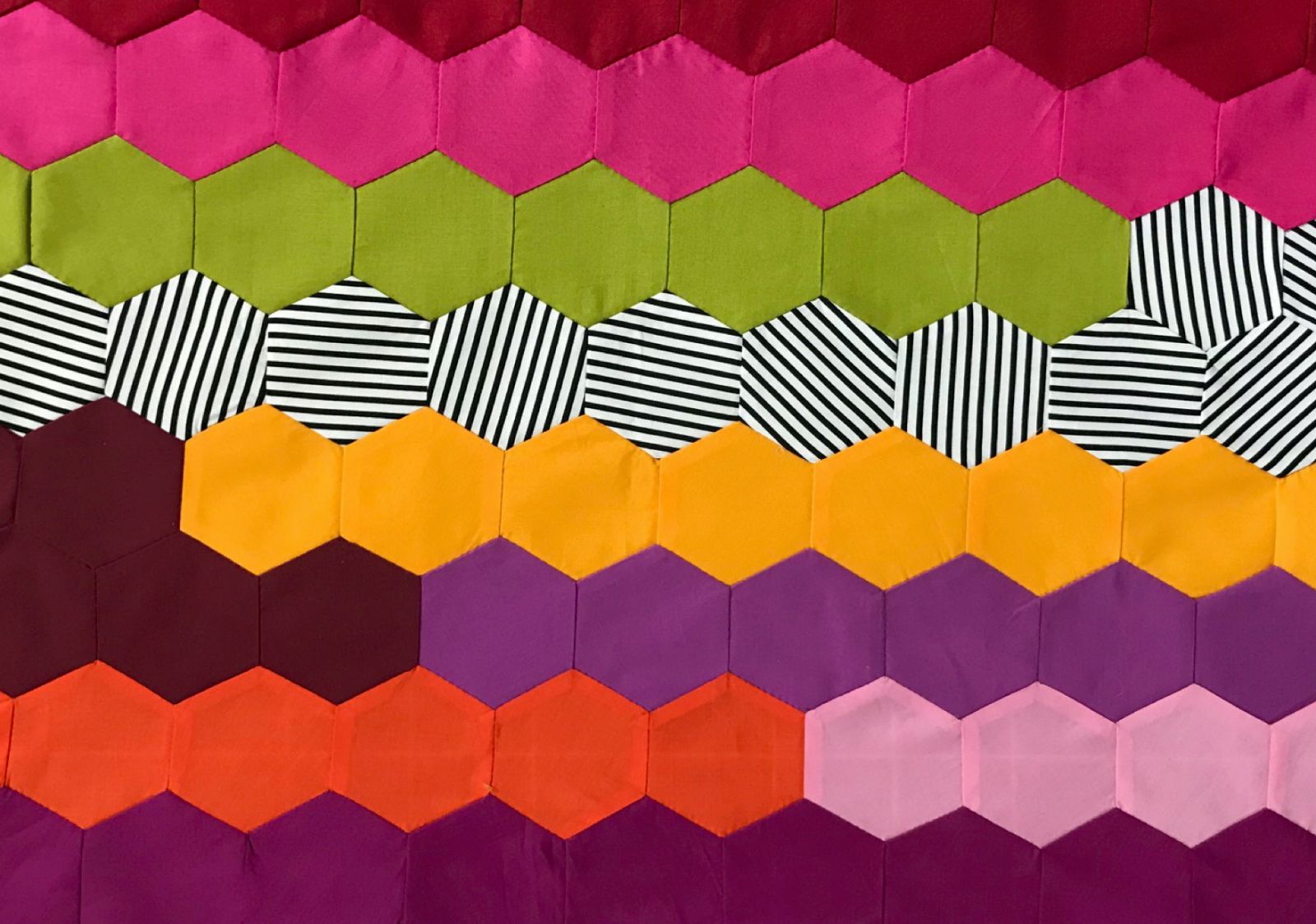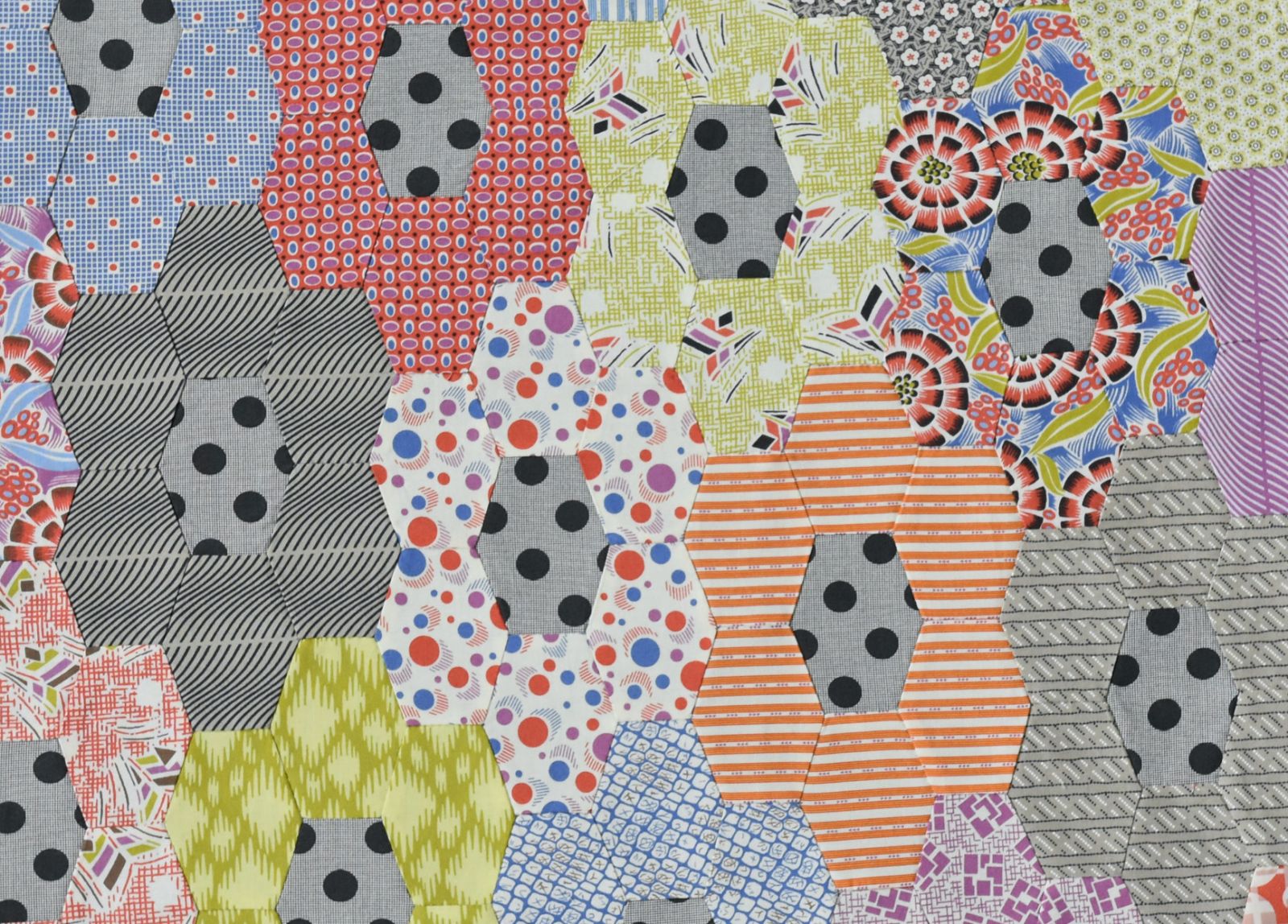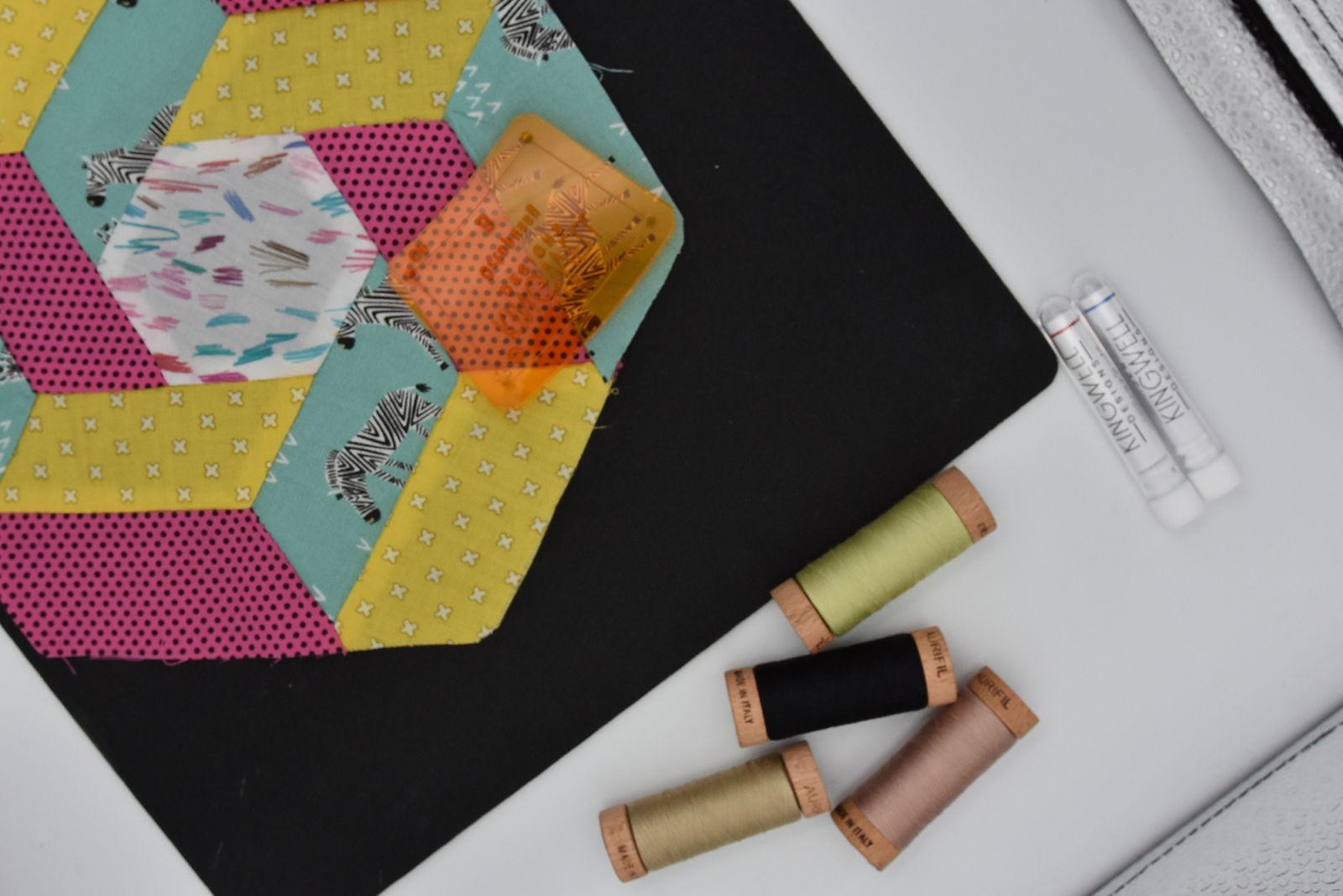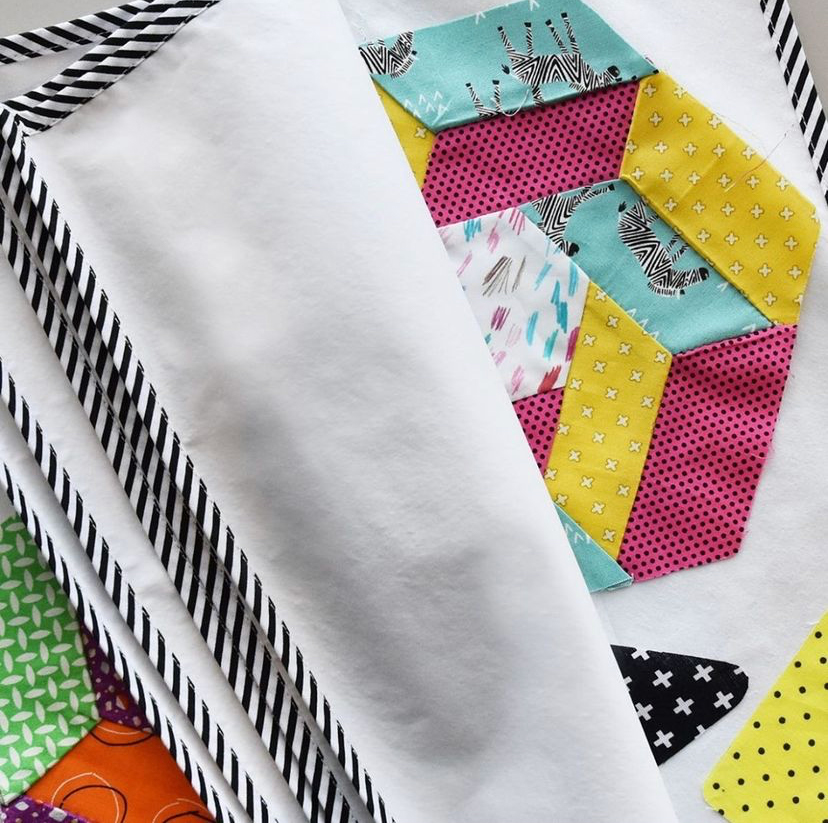 I love mixing these simple shapes to create different hexagons. The possibilities seem endless.
Blockheads 3
Wine Not
This is my 4th and final block in the Blockheads 3 sewalong.
Wine Not... the name was a little joke and a play on words. A fun block and simple to make.
Boy oh boy when these blocks were designed and submitted to Moda way back in 2019 we never thought that we would have to face such a curved ball as we have this past year.
Covid has changed the way we live! I feel very grateful to have this amazing stitching community around me. Never as much as now. The rhythm of my needle and thread has such a calming effect.
I have so enjoyed seeing all the blocks you have made come together and the fabric choices that have been used just continue to intrigue me. Colour, print and placement change the look of some blocks so much.
I made my block scrappy, mostly using my "lollies" and other fabric from several past ranges. The instructions are written for machine piecing but true to my passion I have hand pieced the block..... remember, machine piecing gives me high blood pressure ...hehe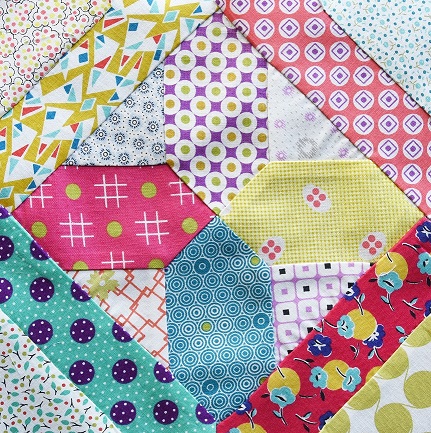 Luisa has been keeping up with making the Blockhead blocks and here are her latest creations.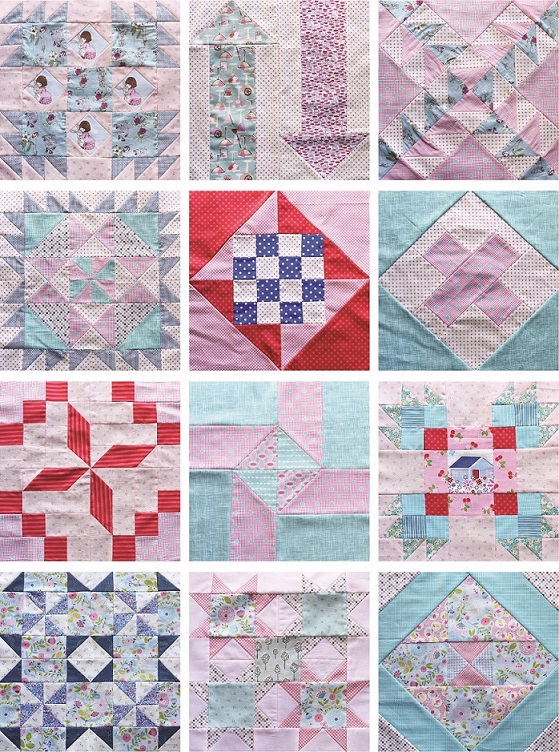 So here's "cheers". Stay safe everyone
Blockheads 3
Bachelor Buttons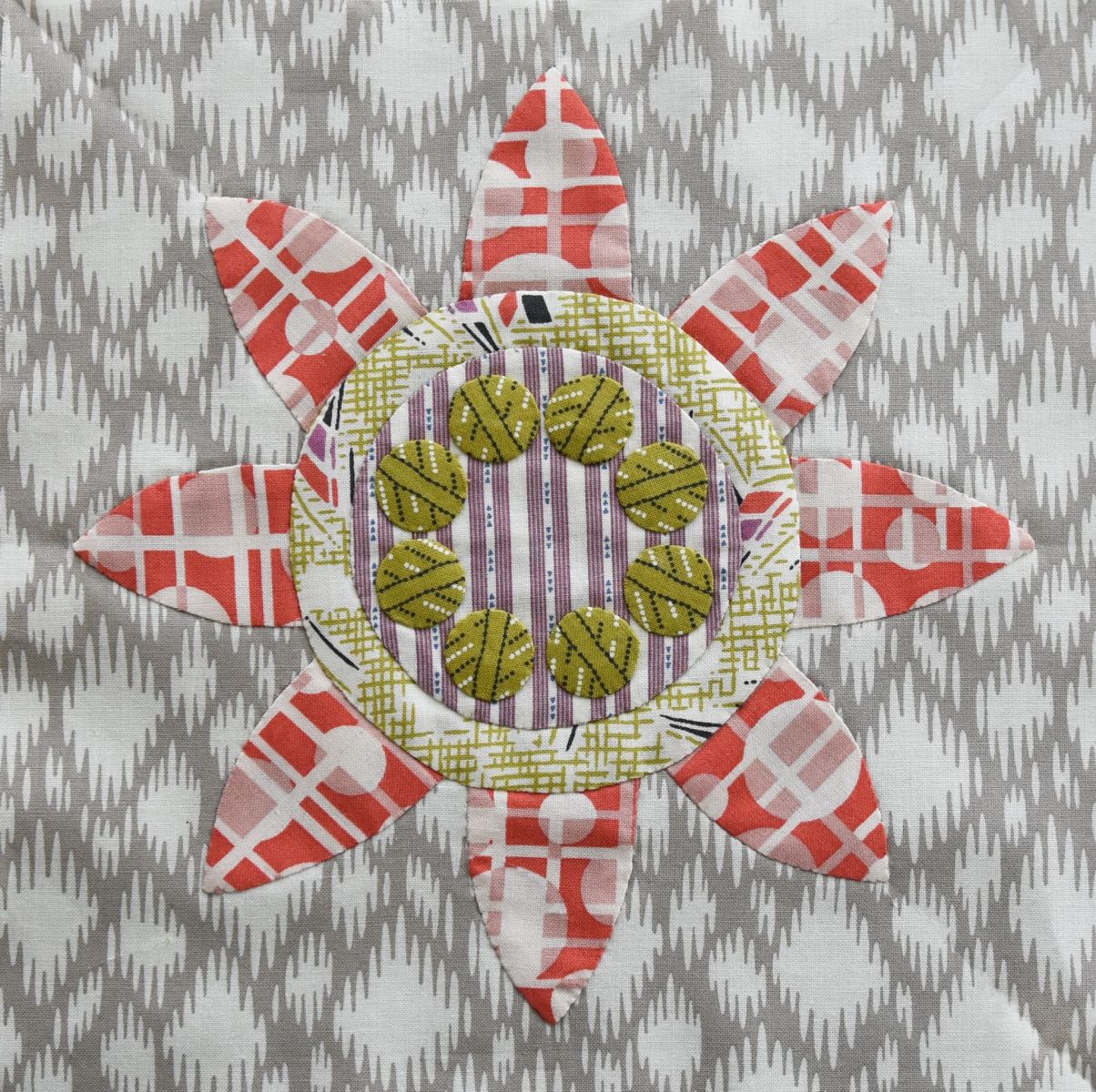 A little applique for the Blockheads!
Anyone who knows me, knows I love 2 things: fresh flowers, and fabric. So for Blockheads Round 3, I drew inspiration from one of my favourite little flowers - Bachelor Buttons! You may know these as cornflowers.
I chose to do needle turn applique because that's what I love, but of course, you can applique this block in any method you choose.
The instructions are clearly written, but one thing I would advise is to trim away the layers at the back of your block behind your circles to reduce bulk in the centre. This needs to be done before you applique the 8 small circles (Template D) in place.
I made my block 8" and used Karen Kay Buckley Perfect Circles for Templates B, C and D.
These mylar circles are such a brilliant idea and I use them in many projects.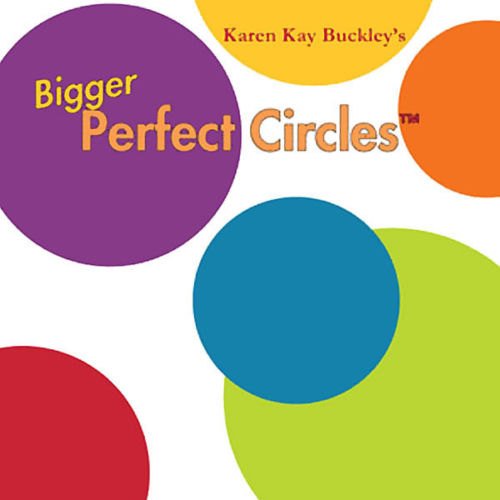 See below my step-by-step progress of using Perfect Circles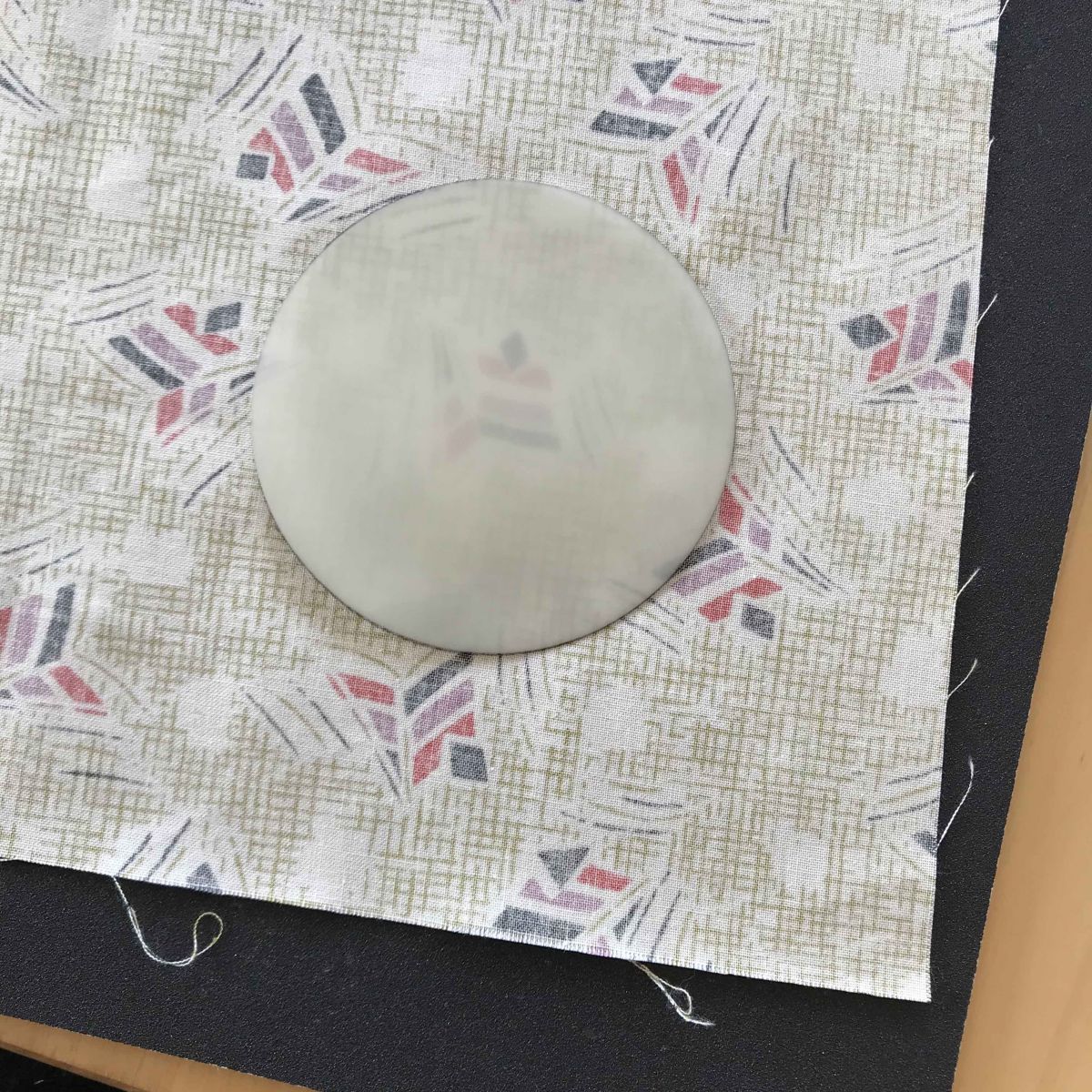 Trace around your chosen circle on the wrong side of your fabric.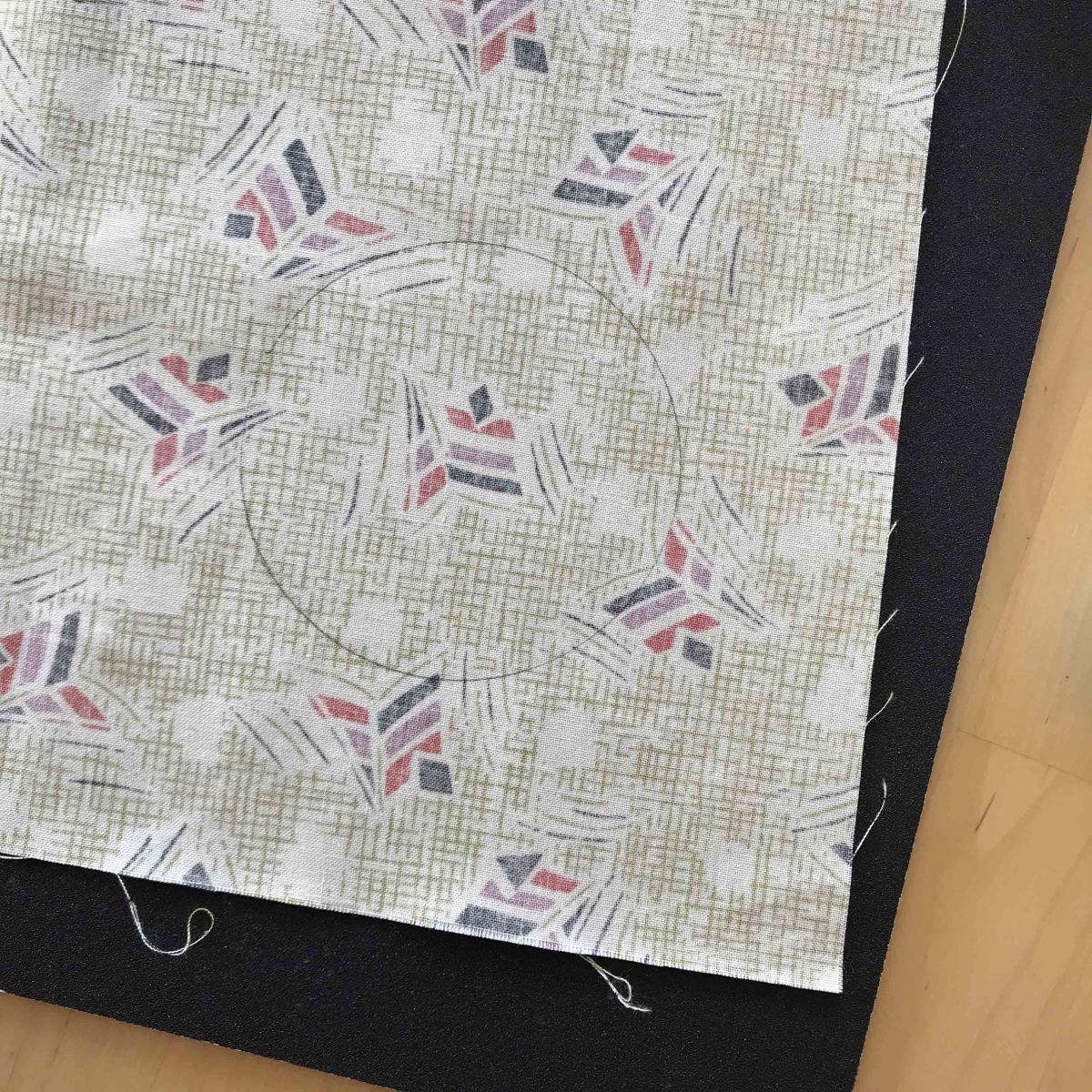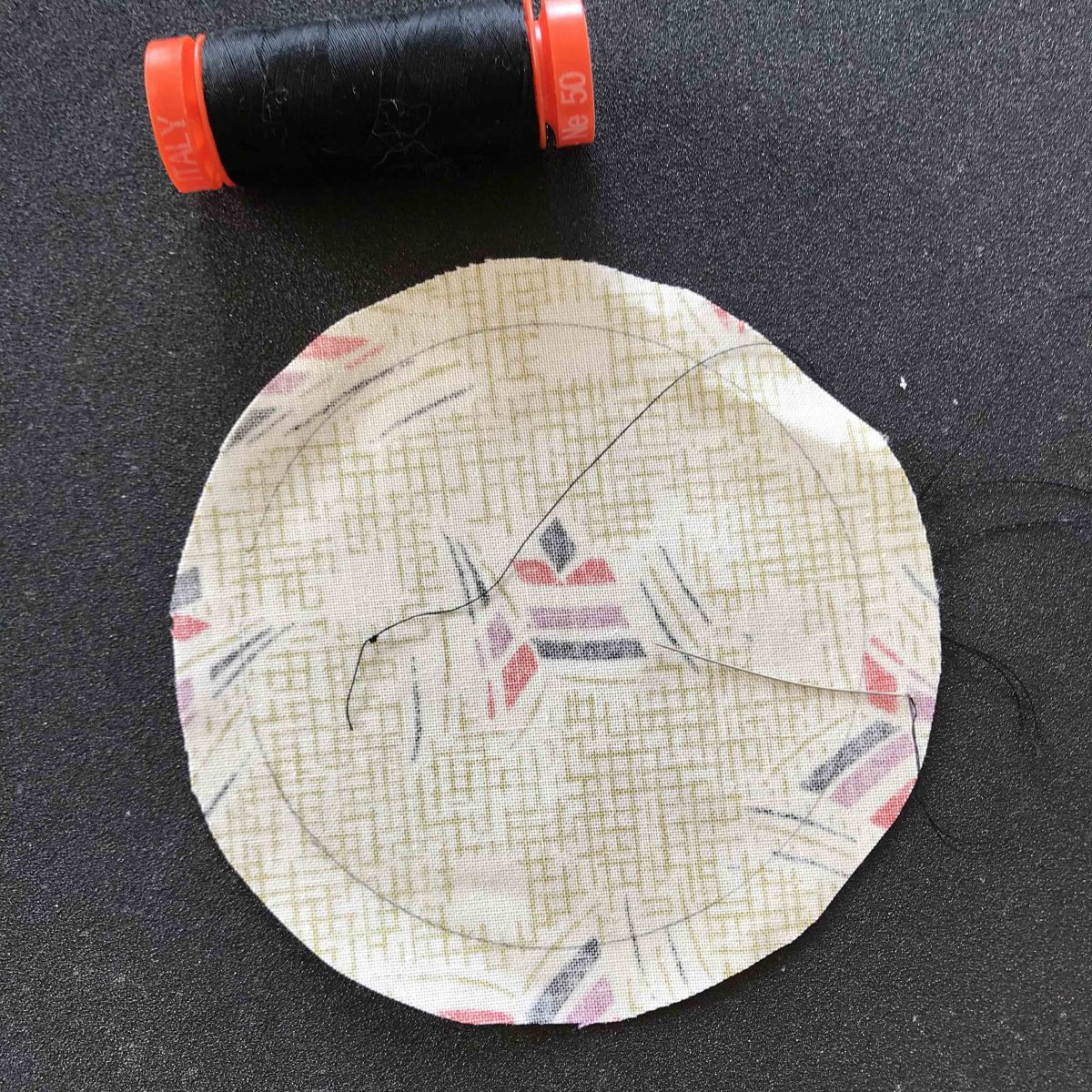 Cut out your circle adding a generous ¼" seam allowance if you are using a larger circle. If you are making a tiny circle your seam allowance will need to be scant.
Tie a generous knot in your thread. Choose a thread colour that blends (I have used black today so you can see the thread) then you will be able to leave this thread in situ and it won't be visible.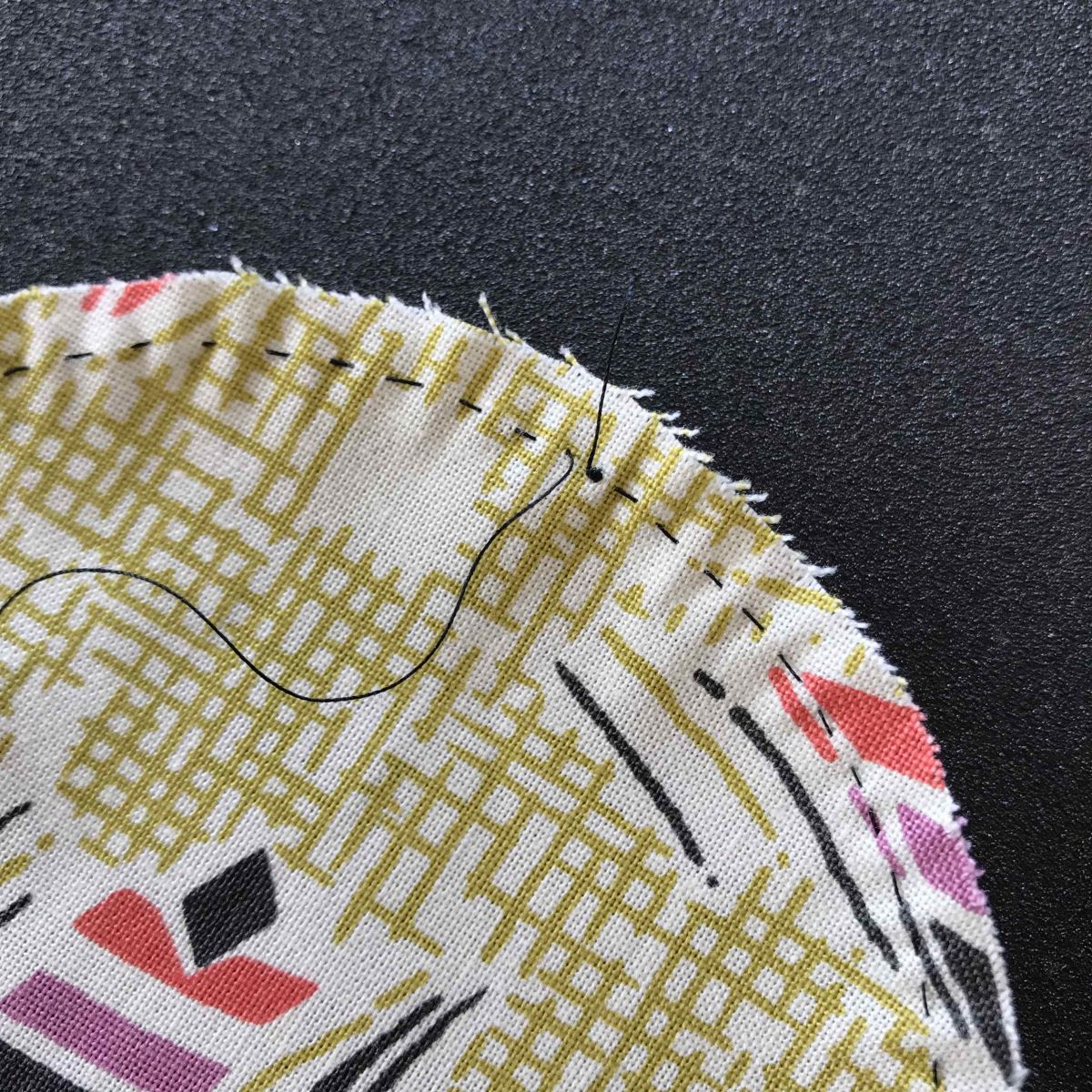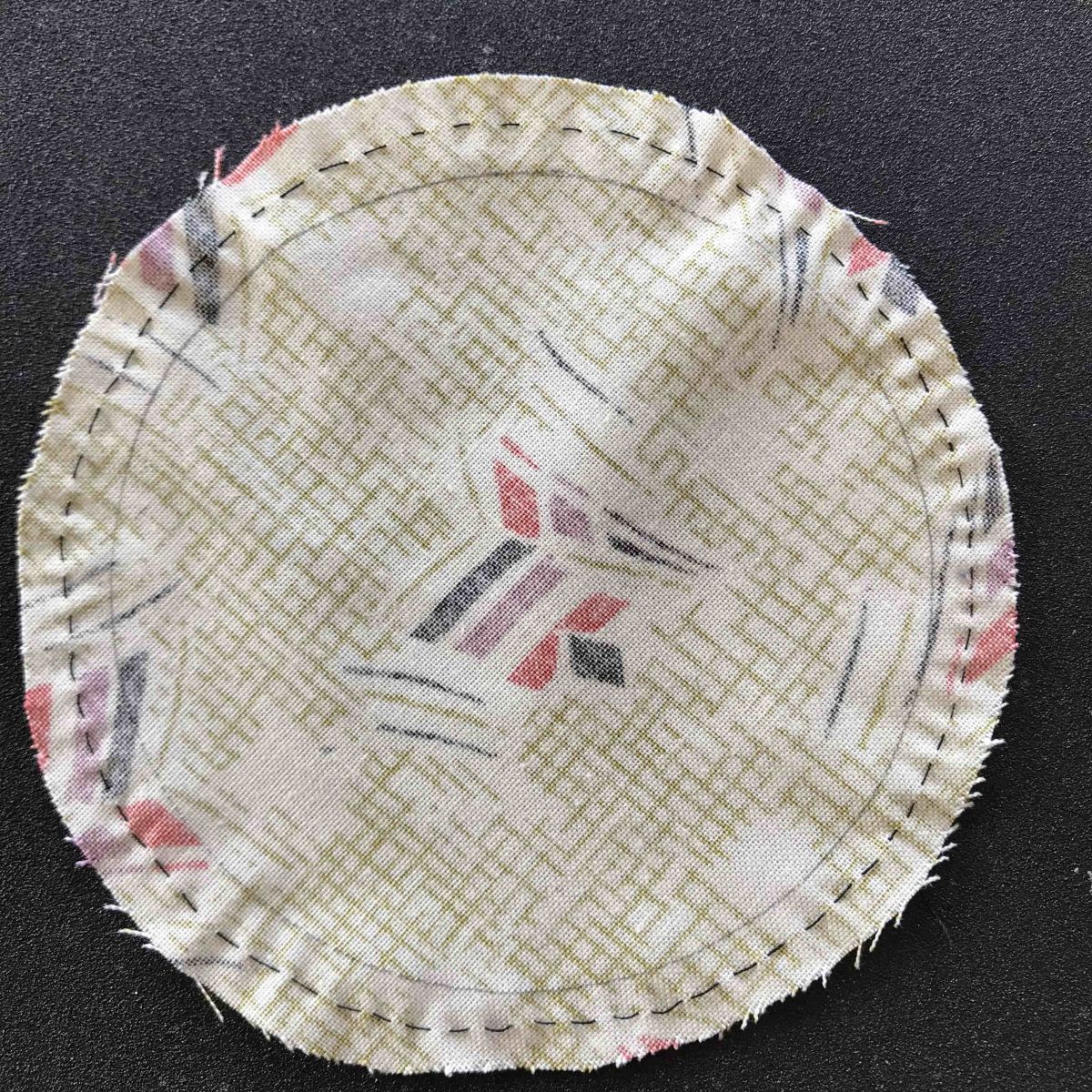 With the knot on the right side of the fabric, stitch a small running stitch within the seam allowance (not on the drawn line). I make this stitch quite small. If you use large stitches your fabric will pleat rather than gather. Stitch all the way around until you reach the knot and leave an unsecured tail.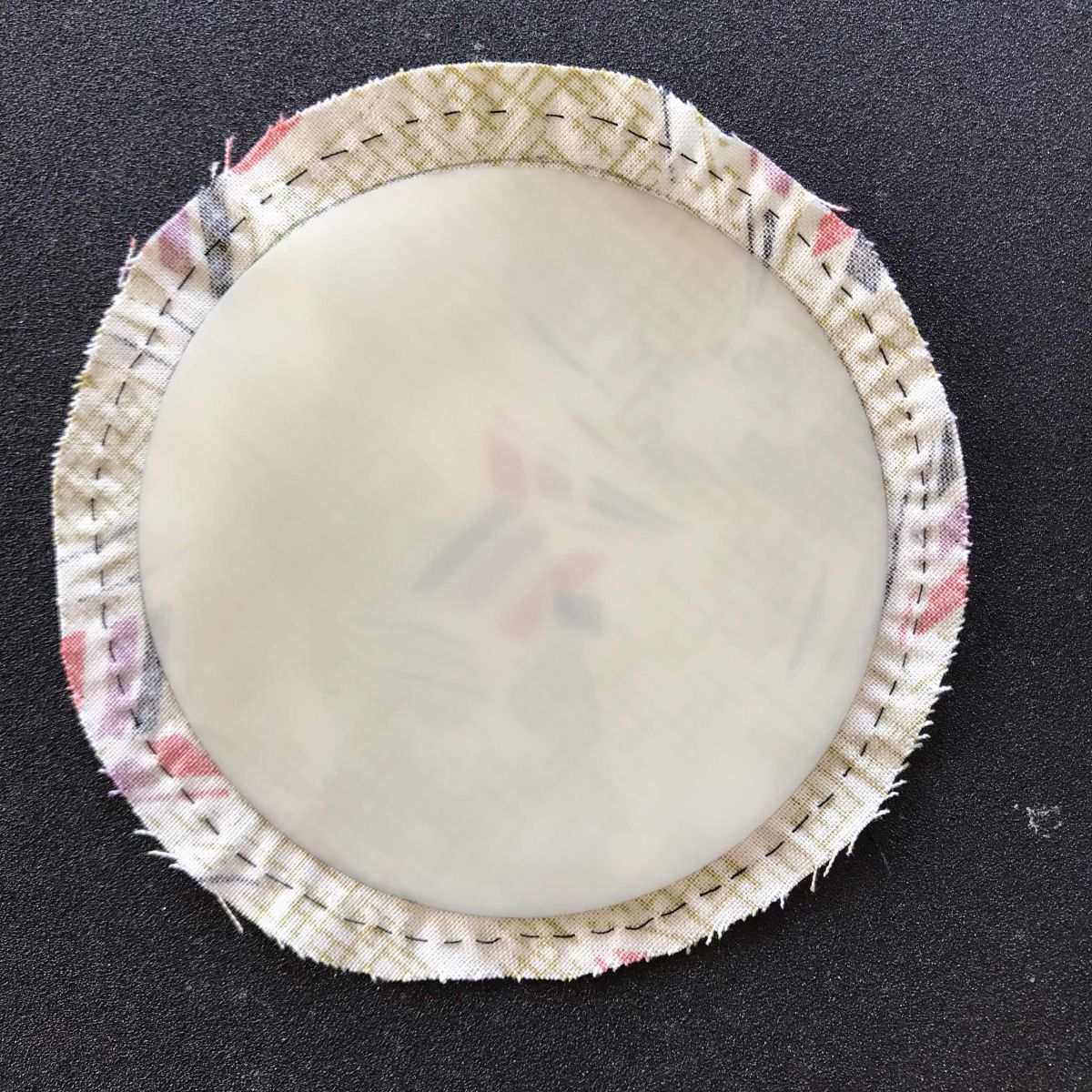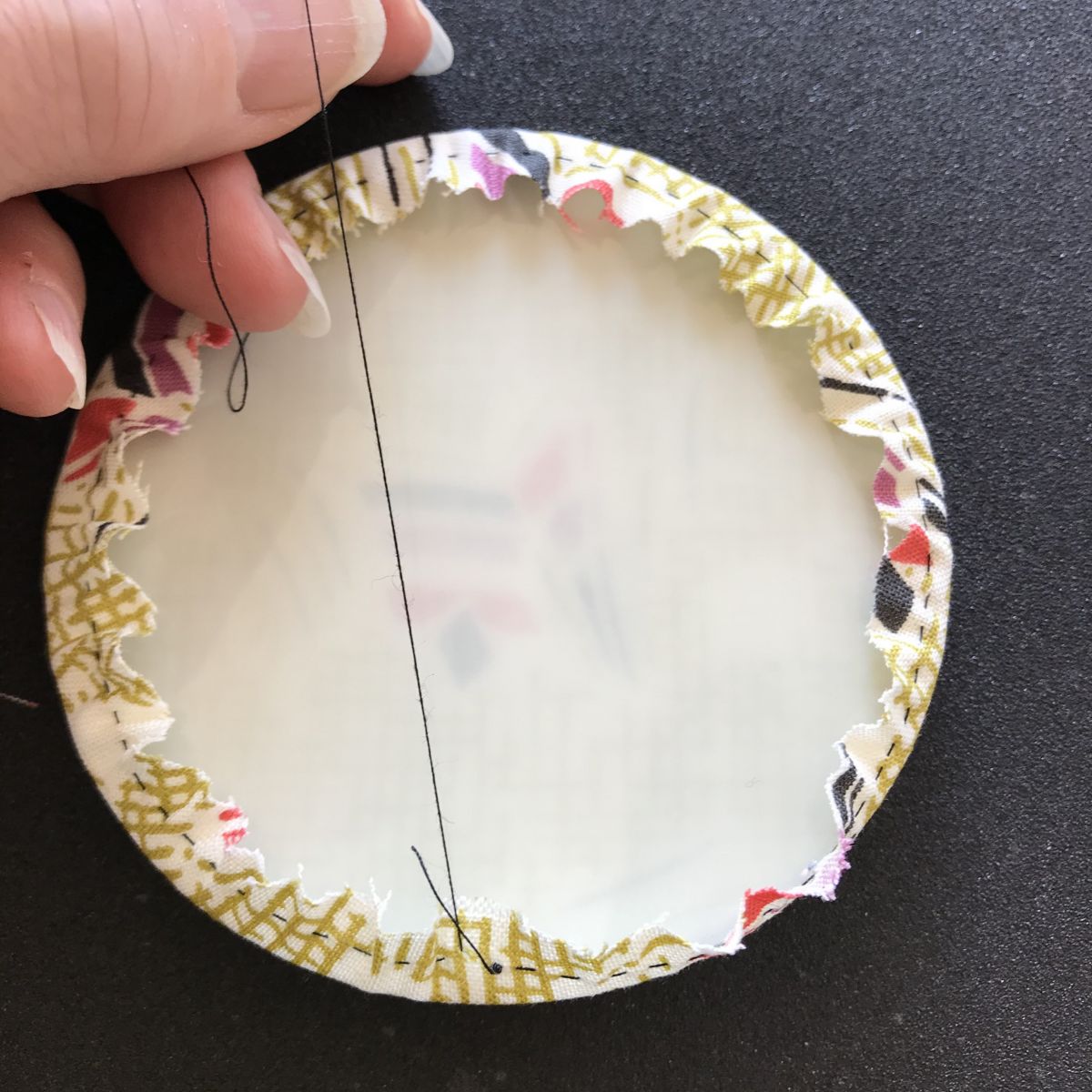 Place the mylar template in the centre and draw the thread tail until your seam allowance is gathered firmly around the circle.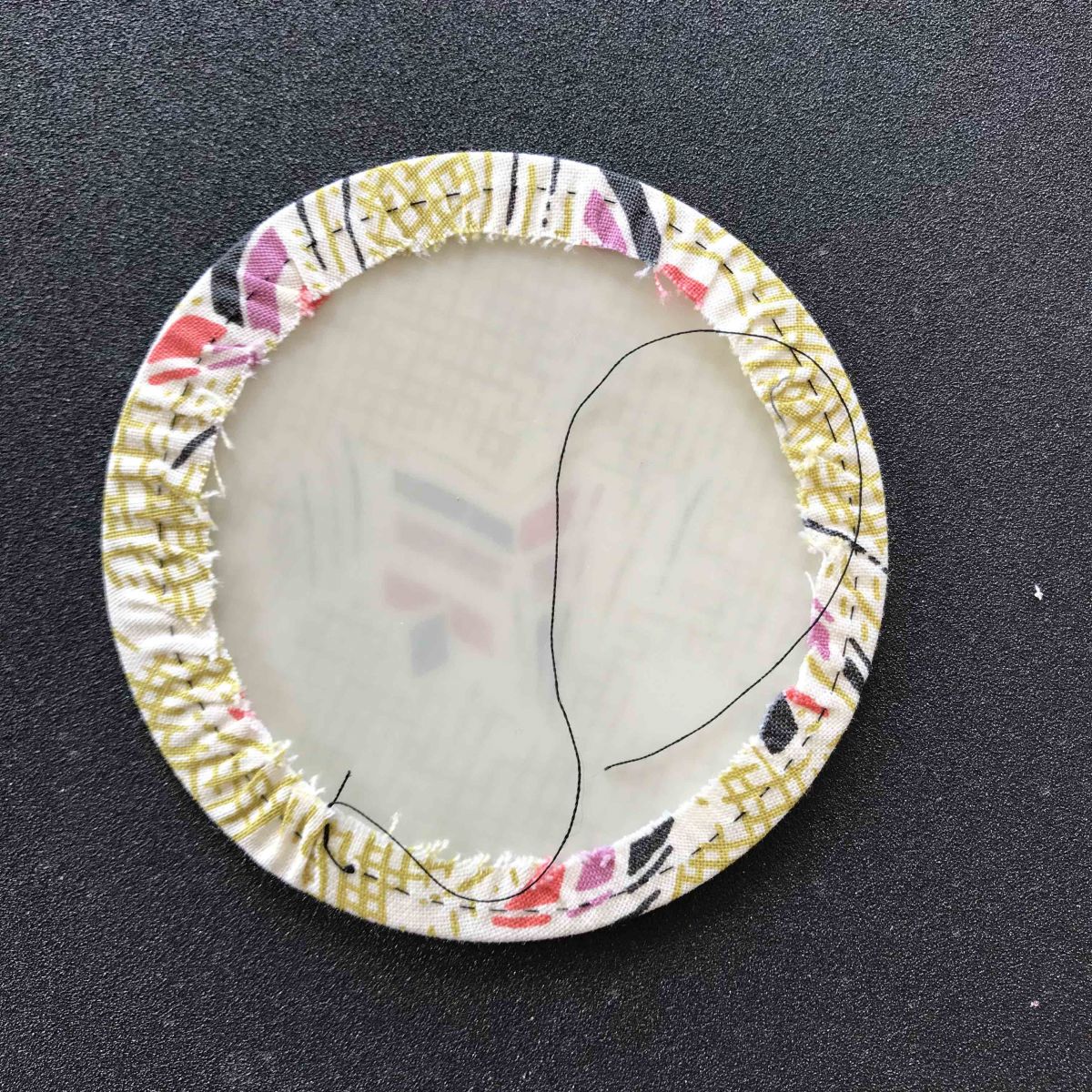 Spray the fabric with Flatter and press with a cool iron until the fabric is dry.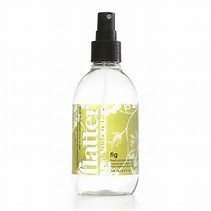 This is a smoothing spray that will give you a beautiful crisp edge without the stiffness of starch. This makes your circle easy to hand stitch. I press all my blocks with Flatter - I love it!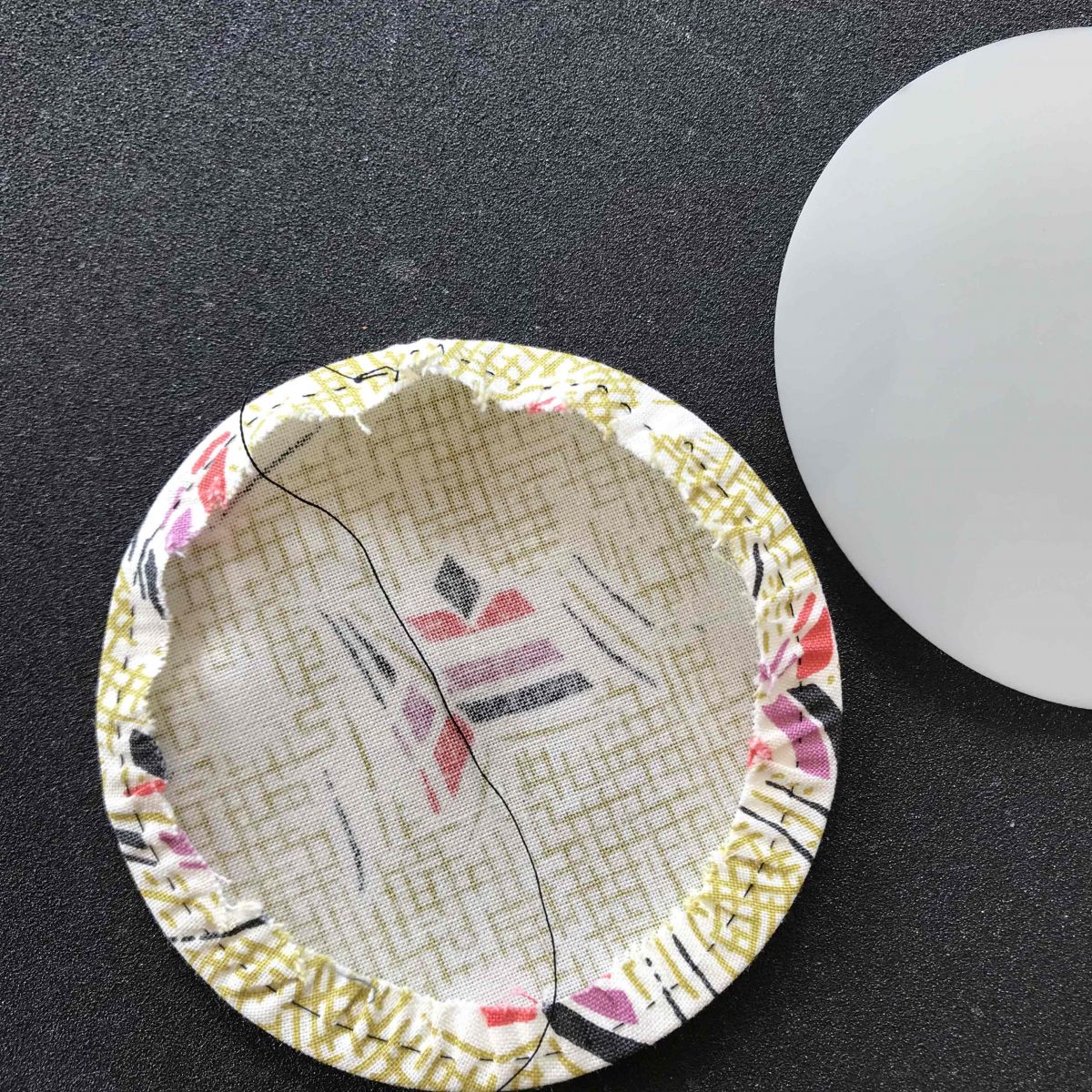 Open the seam allowance gently at the unsecured thread tail and remove the mylar circle.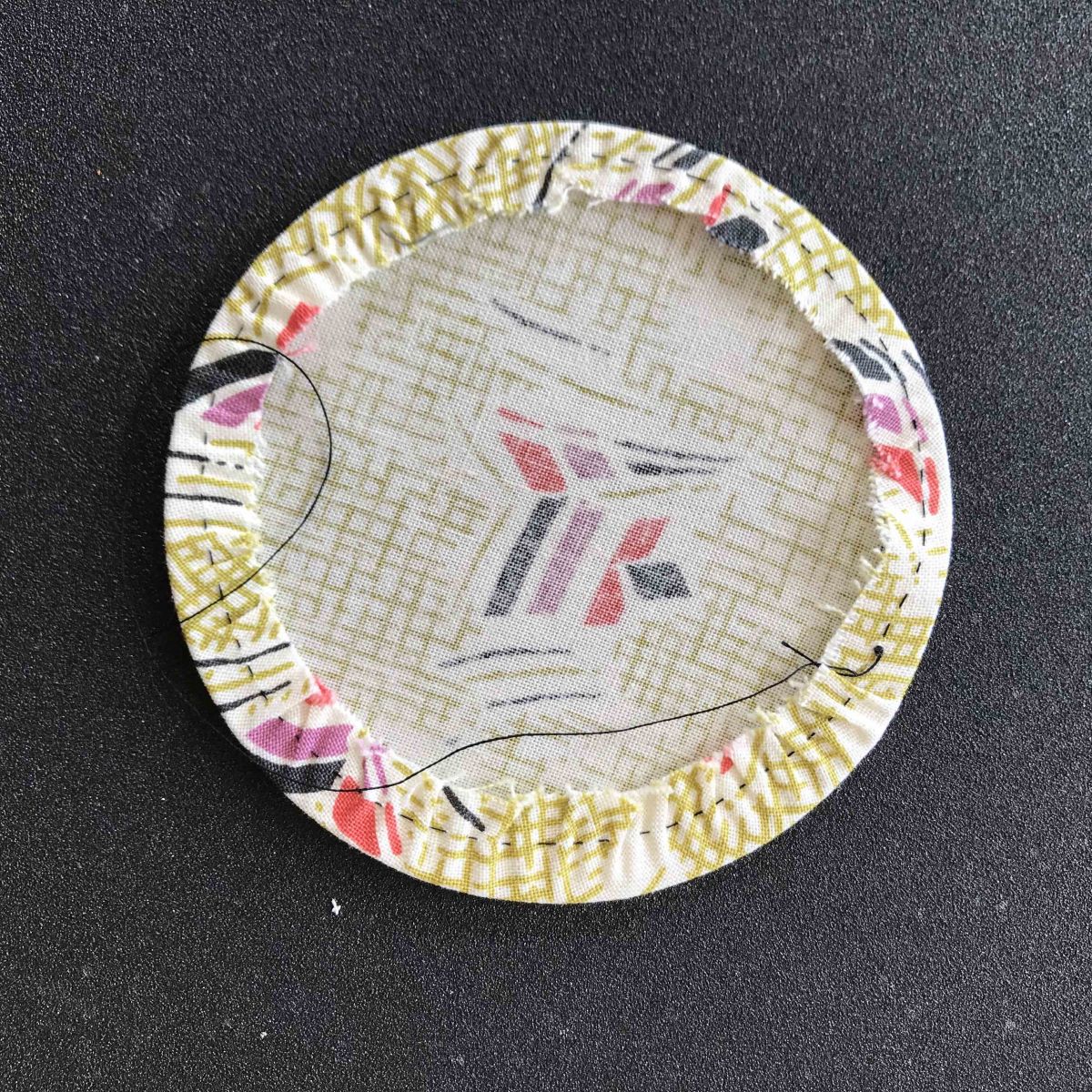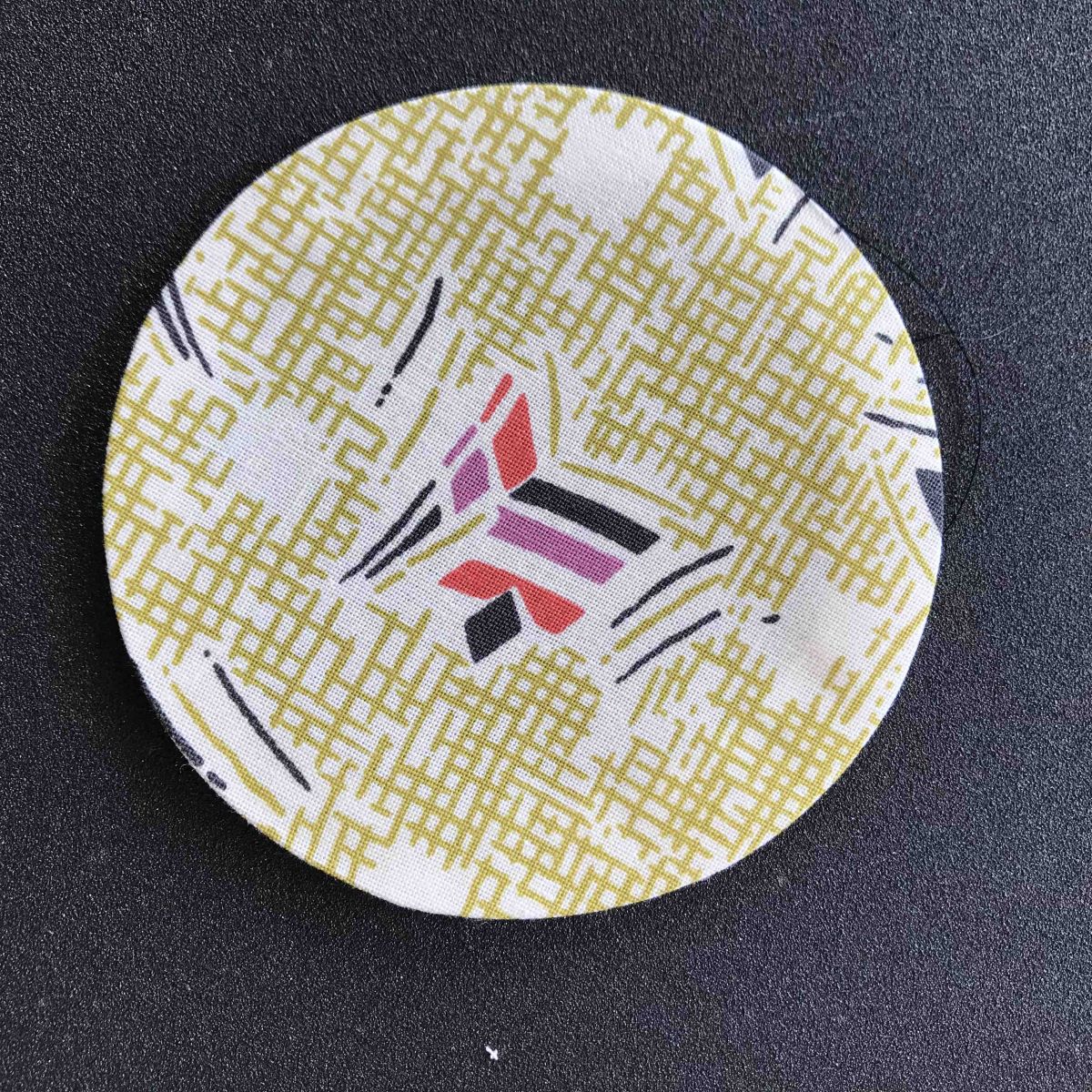 Gently pull the thread tail so that your seam allowance sits flat and you now have a Perfect Circle to applique.
Luisa made her block 12".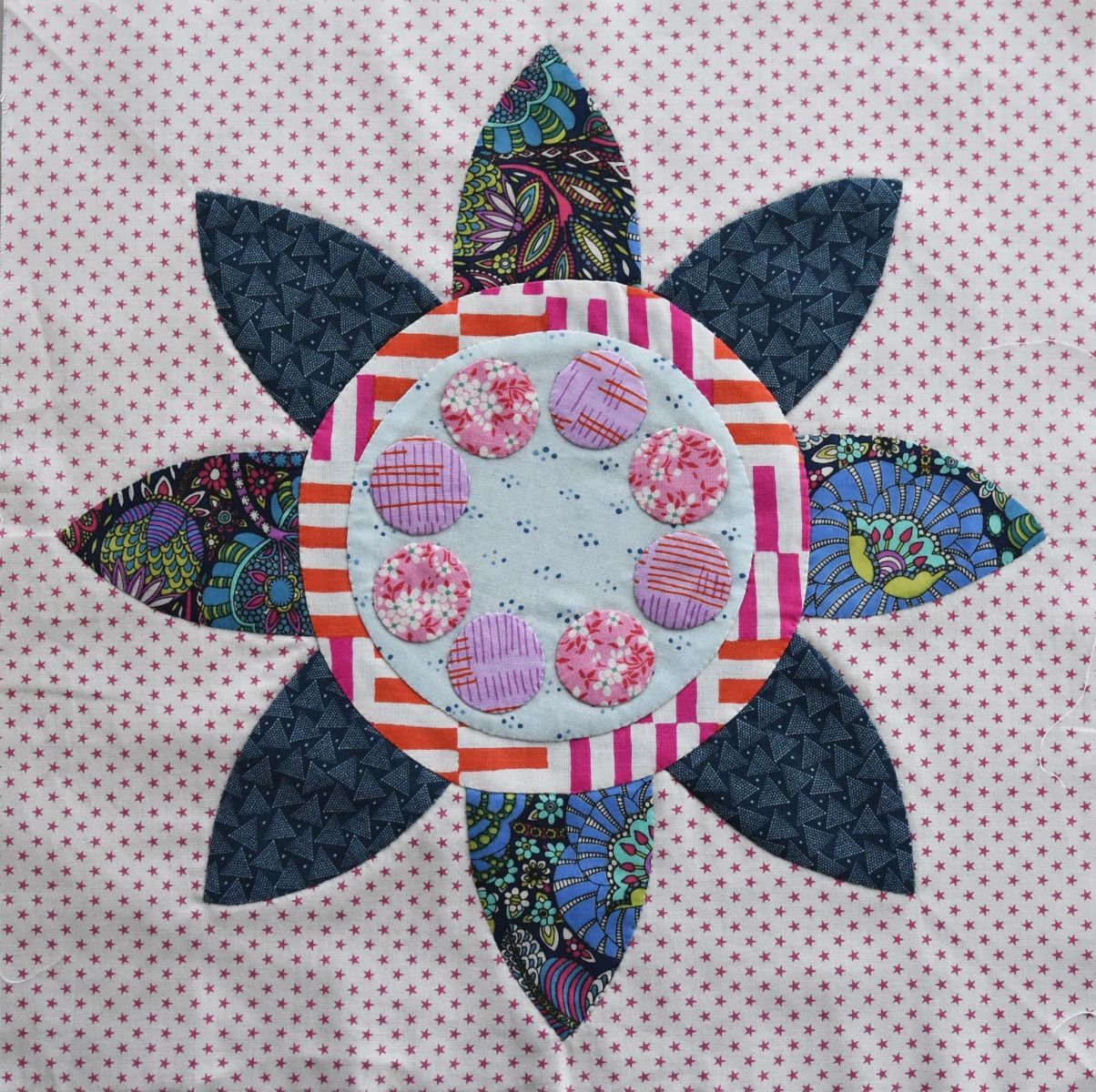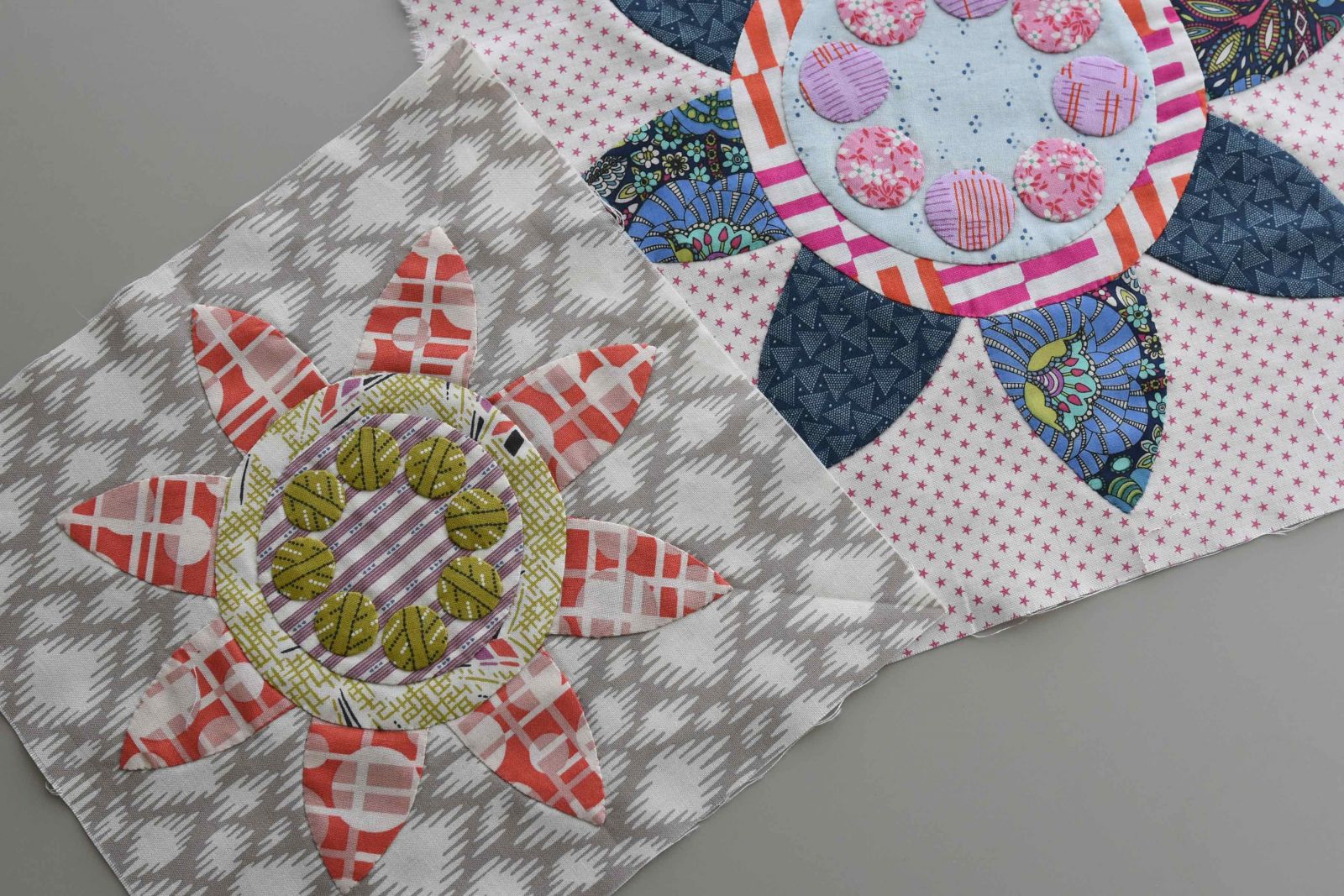 She has been keeping up with making the Blockhead blocks and here are her latest creations.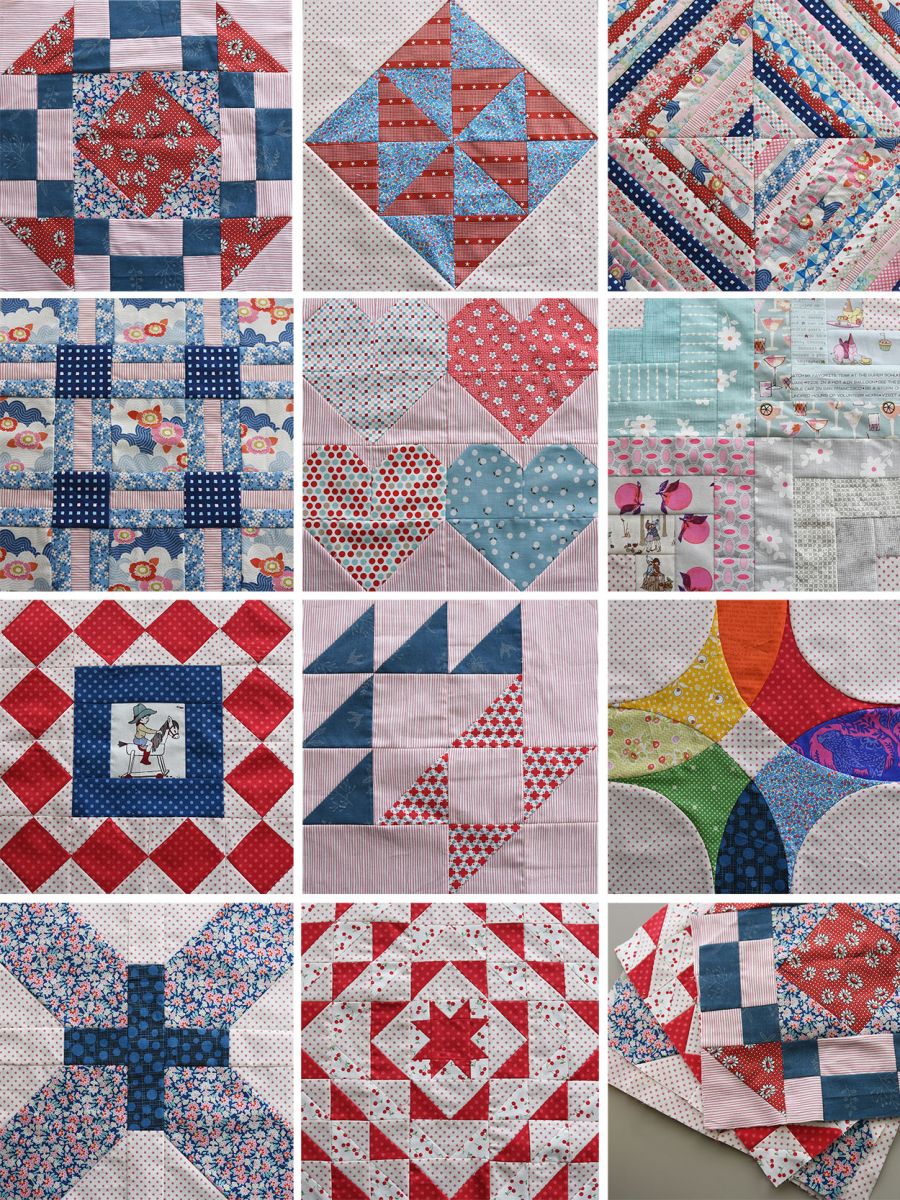 Blocks made by Luisa Baum
Blockheads 3
The Proposal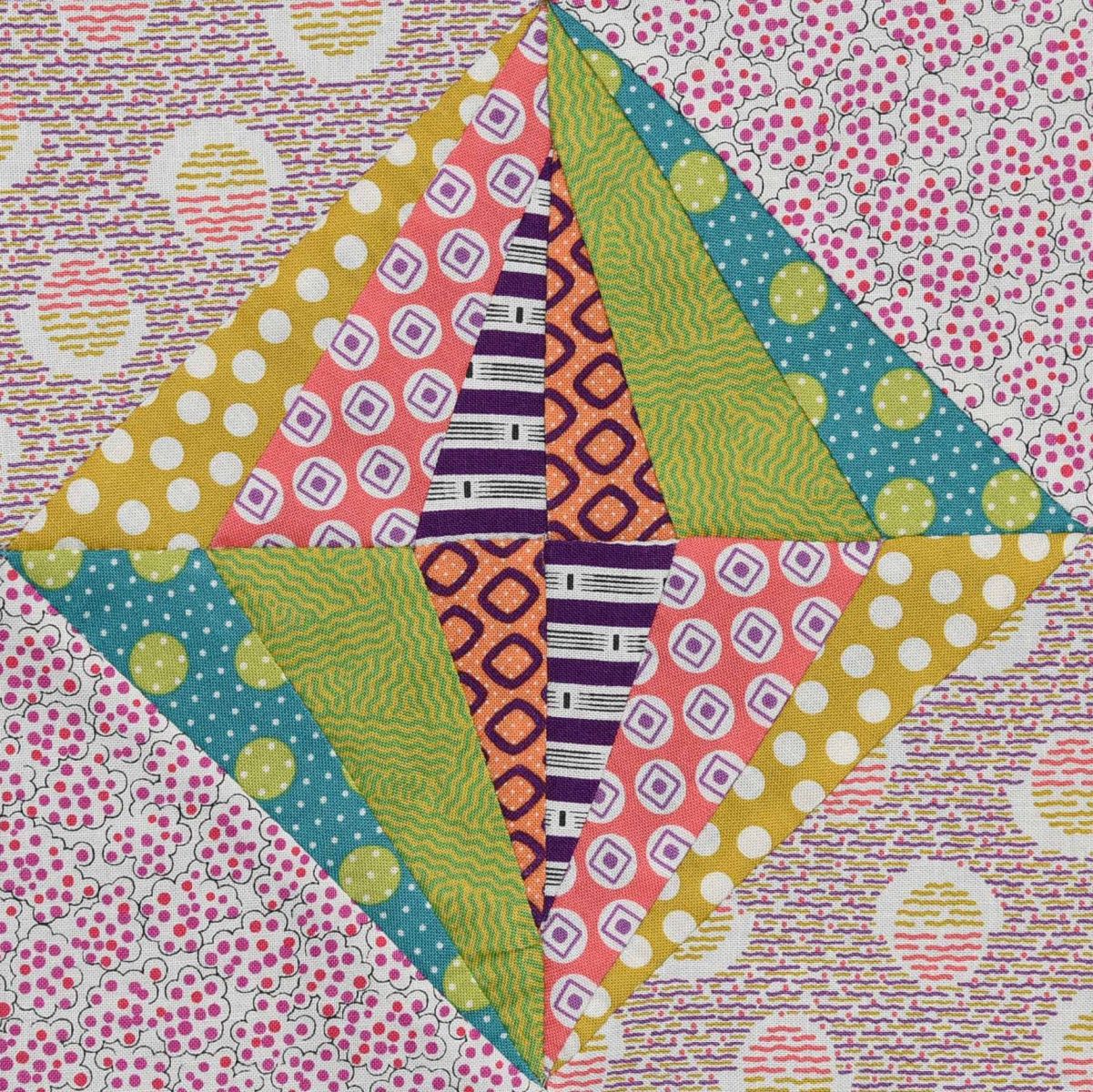 Naming quilts and blocks are always the hardest things when making a new project.
My 3 block designs for Blockheads were submitted to Moda last October. I was at quilt market and hard against the deadline (read into this... had not done my homework) so the names were chosen quickly.
I named this block "The Proposal"... for obvious reasons, after all, Diamonds are a girl's best friend!!! When the schedule was sent to me it made me giggle. The decision was not made by me which order the 3 blocks would be shared and it just so happens today July 15 is my wedding anniversary. Don't you think that is a fabulous coincidence that Moda chose this particular block and this exact day without knowing a thing!
Once again I chose to hand piece the block but the pattern is written for Foundation Paper Piecing. This shows the versatility of hand-work, you can convert any pattern to a hand piecing pattern. I love that we all get to stitch in our favourite method. That's how it should be!!
I also wanted to show the "usefulness" of my LOLLIES fabric. Each range includes this fabric print in several colourways. There are 8 designs printed across the width of the fabric. Each design is 5" wide and the bonus is you get the chance to use the small charcoal stitched divider print. Use it to make easy HSTs or Dresdens and Wedges with a twist. You are only limited by your imagination.
The lollies are my go-to fabric and I use them in almost every quilt I make. They just add scrap to scrappy and that makes me happy.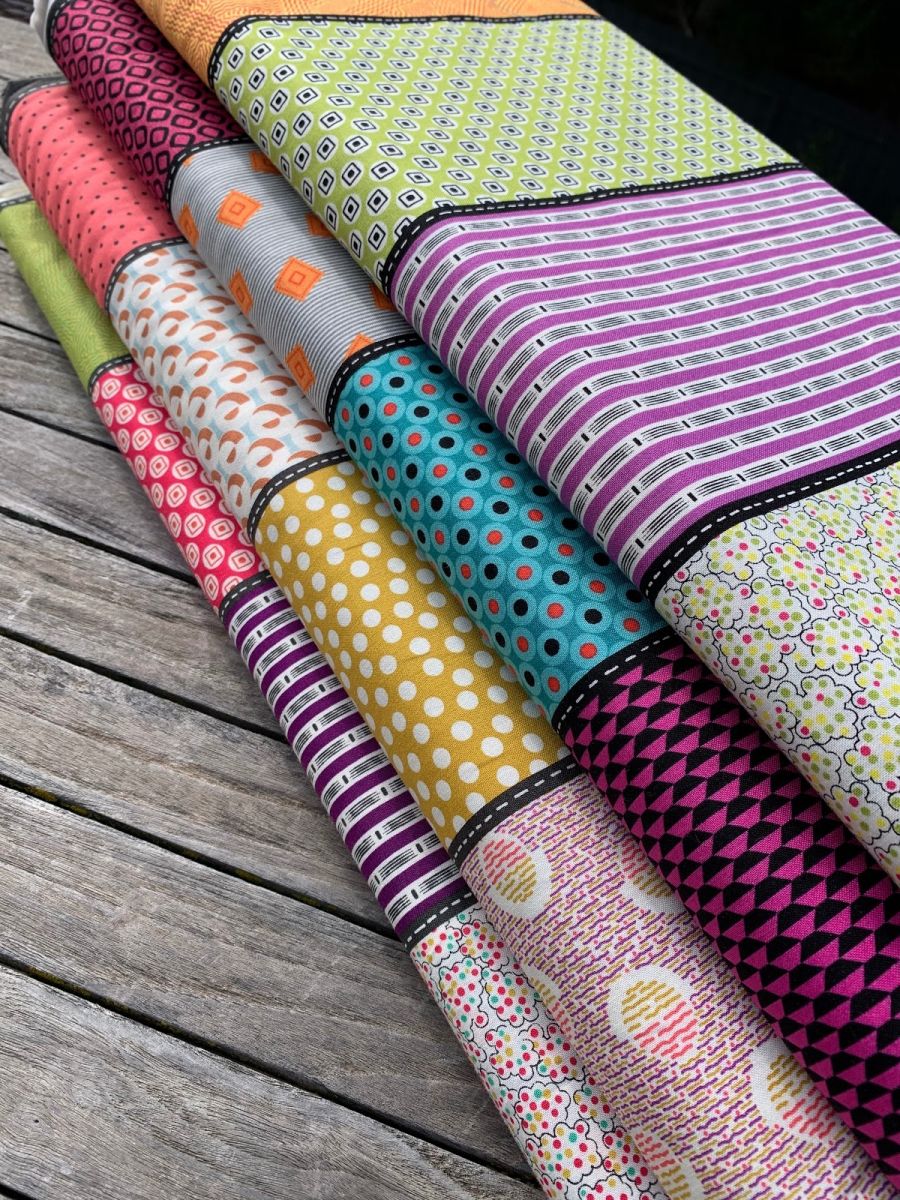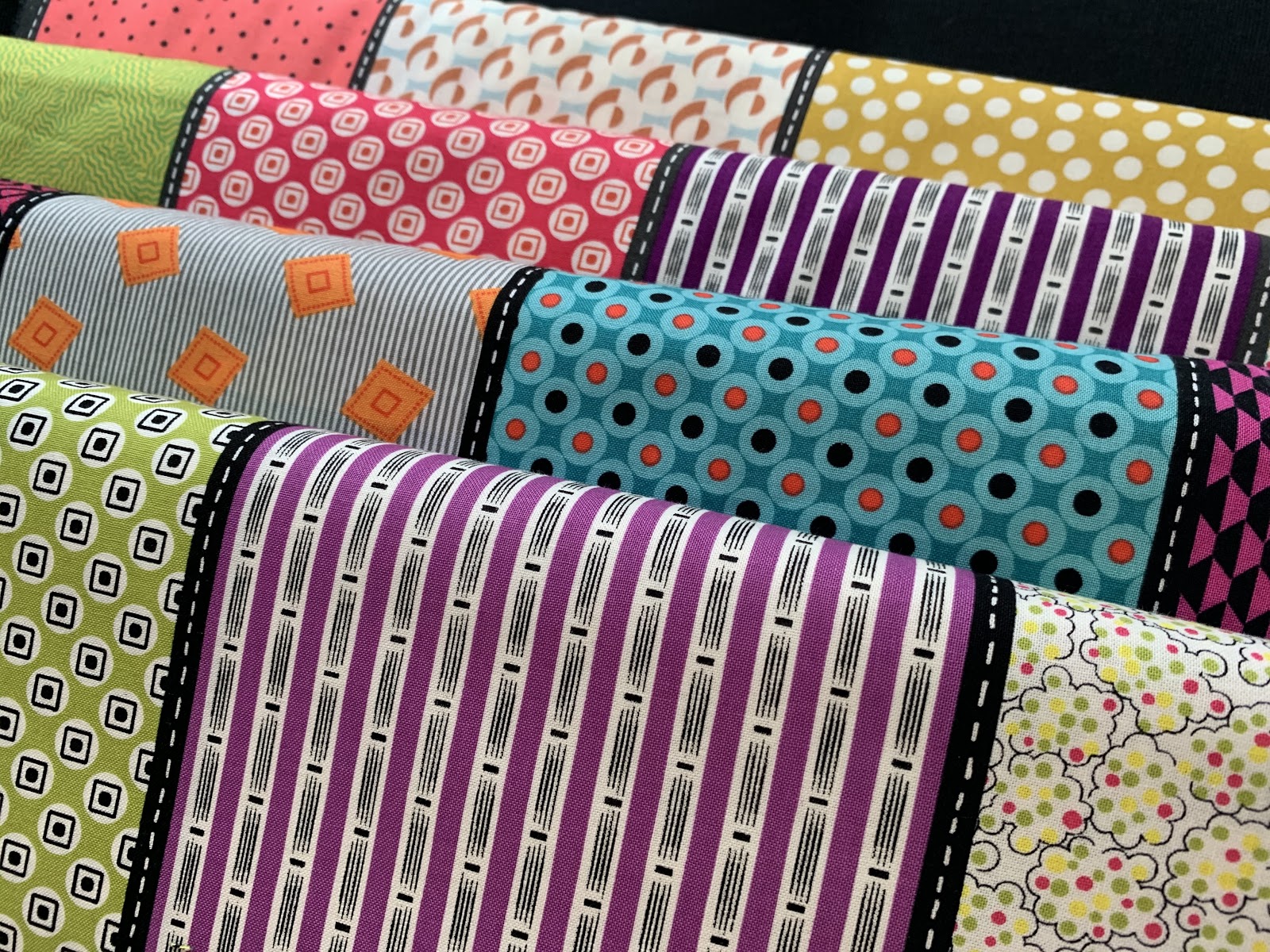 Lollies from several ranges of Jen Kingwell for Moda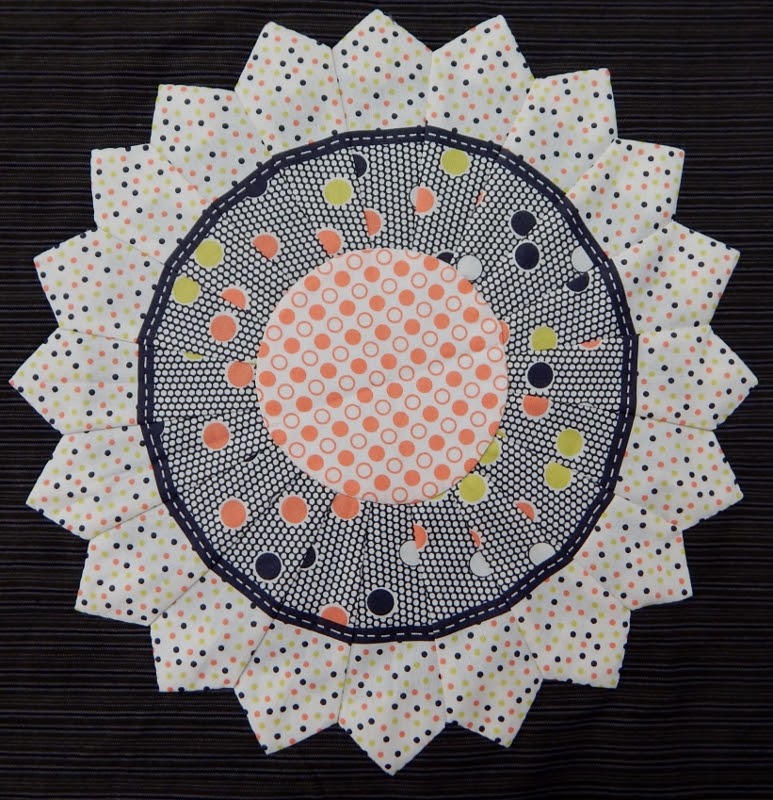 Block made by Water Wheelhouse
Luisa has been keeping up with making the blocks and here is her progress so far.

Blocks made by Luisa Baum
Block 13
The Baldwin
We are just getting this blog all sorted. It's funny how life circles around. I think I first started blogging back in the earlyish 2000s. Where has that time gone?
A little about me. I am lucky to live on the Surf Coast in Victoria Australia, where every day is like a holiday!
Below is the infamous Bells Beach, just a stone's throw away from my home and shop.

@romyphotographer
I have a fantastic supportive family and great staff who help me run my Quilt Store "Amitie Textiles". It's my baby and I love going to work each morning. We have a cafe in-store that serves great food which is all made in-house and locally roasted coffee. The chef and barristers tempt me daily.
My studio is upstairs so I have an endless supply of fabric and supplies to work with.... and of course...snacks.
Sadly due to COVID-19 both the cafe and the physical store are closed but our online site remains operational at this time. Pop over and have a look and join our mailing list while you're there if you would like. @amitietextiles on Instagram is where you will see most of our daily news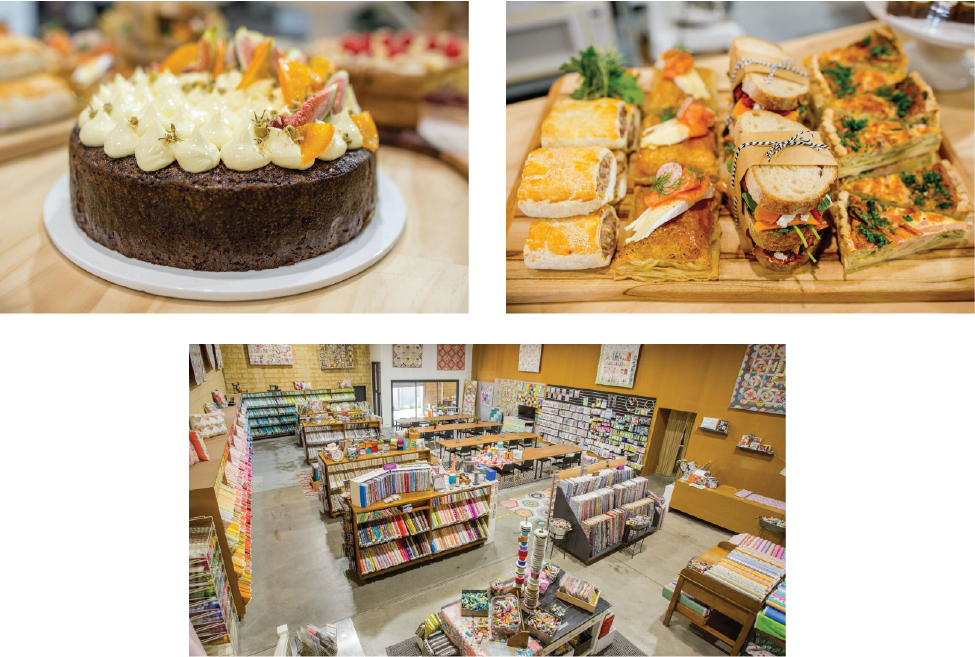 I am a quilt maker primarily and design patterns. I also design the odd range of fabric with @Moda and enjoy travelling and teaching.
Now I know you're here for Block Heads 3 so here we go!
While I haven't been keeping up with everyone's blocks I have had Luisa who works at the store making along with everyone and her blocks look fabulous! If you would like to follow Luisa's progress you can visit her @luisabaum ~ Thank you, Luisa!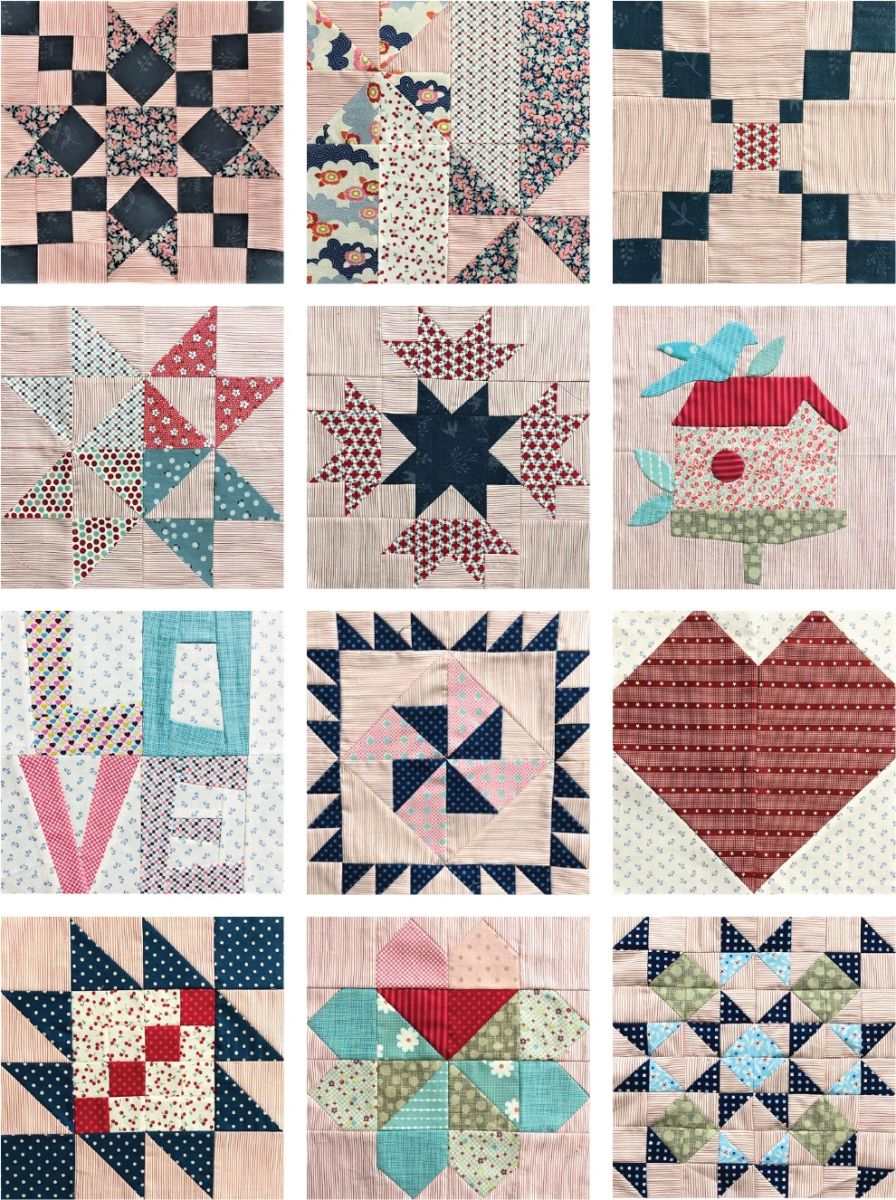 My block "The Baldwin" has been written for foundation paper piecing but I am a hand piecer so this is how I stitched the block and I'm going to show you how to use this pattern if you would like to handpiece your block.
Block 13 - Baldwin
Take the printed pattern and trace each template. As we are going to hand-cut and handpiece you only need to cut the "A" templates. You will cut a reversed piece by just turning the template face side down.
I use a permanent marker and I write the name of the block and size of the block and the identifying template letter.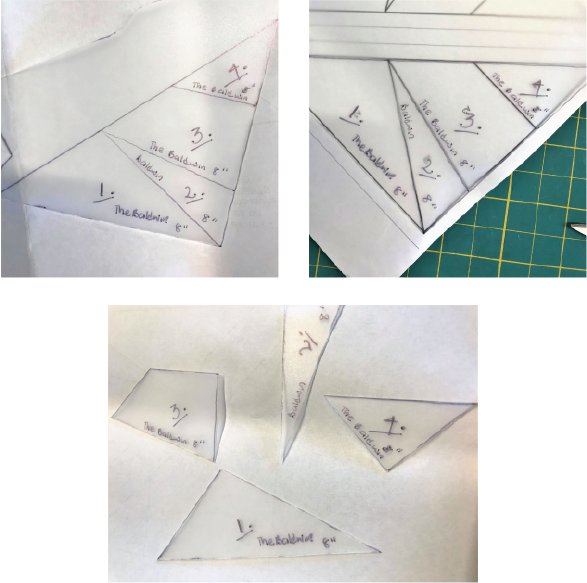 Use a sand paper board as this will stop any distortion as you trace around your templates. I use a mechanical pencil with a soft lead 2B (2 in the US).
The line traced immediately around the edge of the template is your stitching line. Add a 1/4" seam allowance using a Simple Seam Wheel or a ruler. This line is your cutting line.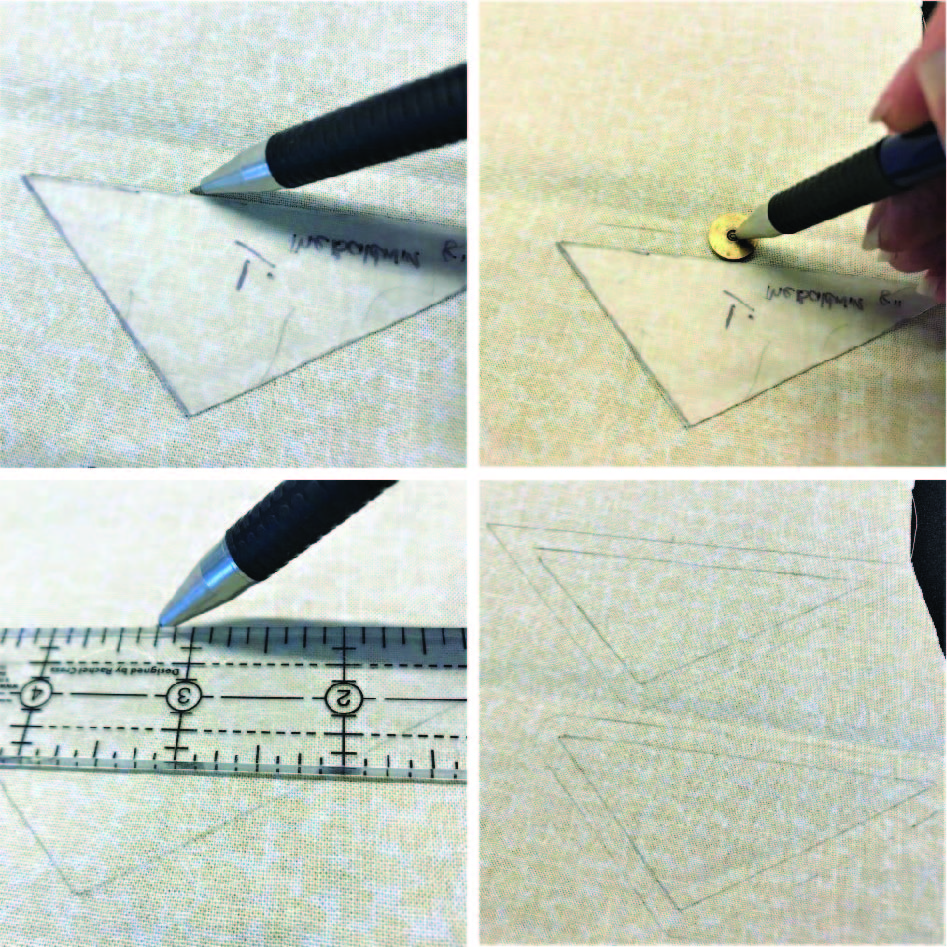 You will cut one side of the block with the template face up and the opposite side with your templates face down.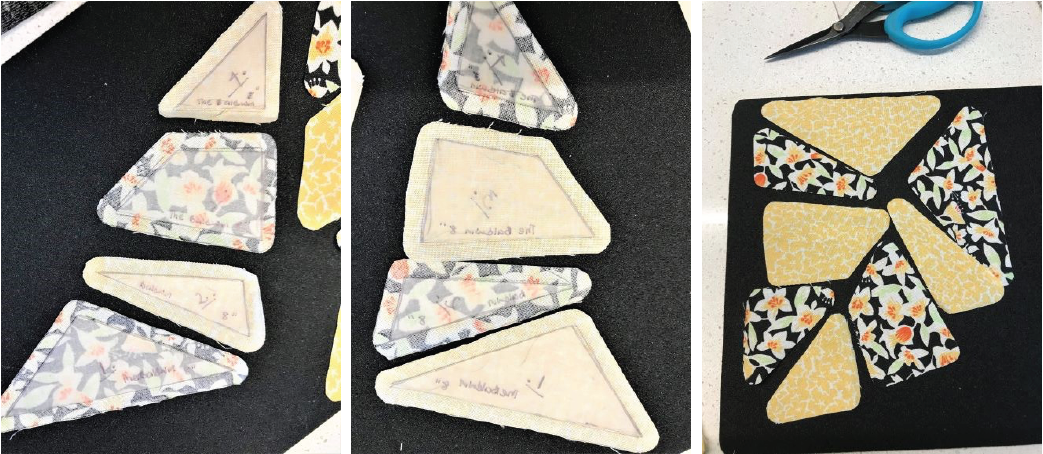 Stitch the halves together, then stitch the halves together down the central seam.
Make 4 units and stitch together as a 4 patch.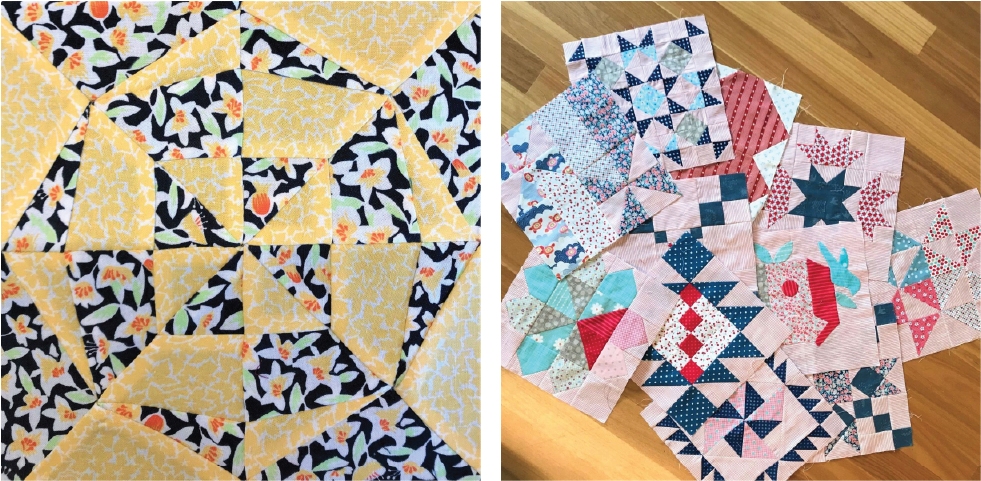 I hope you're enjoying sewing along with all the Moda designers.
Thanks for stopping by and I hope to see you somewhere in the world soon.
Take care and stay safe.
xxx Jen