Burrows & Boughs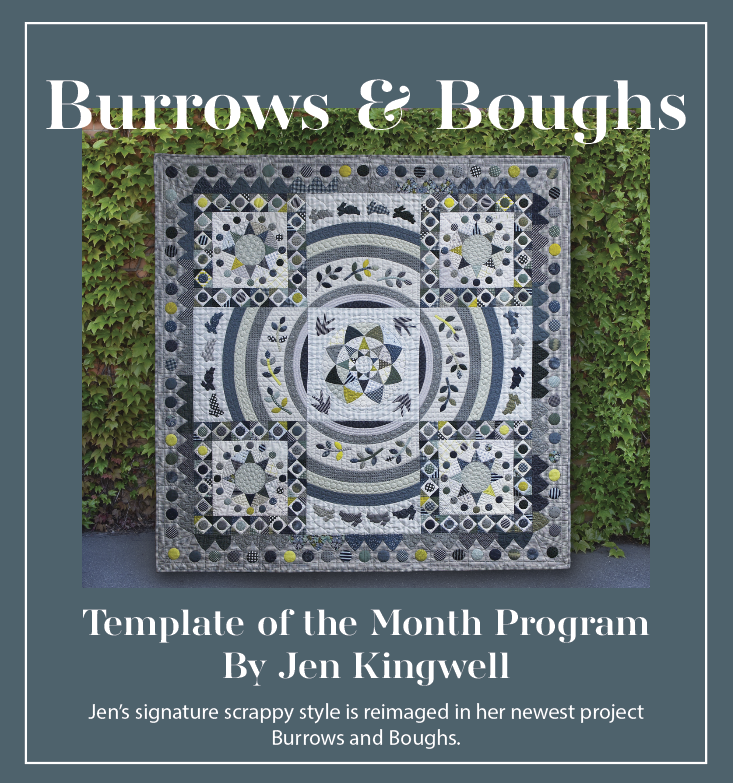 **Please note sign-ups for this program have closed - To join the waitlist please email bom@jenkingwelldesigns.com.**
We invite you to consider participating in Jen Kingwell's new Template Of The Month program at a wholesale level. Historically, these programs have been a great way to generate a fixed income over a 12-month period.
Jen's signature scrappy style is reimaged in her newest project, Burrows and Boughs.
Made exclusively from 'Greenstone' (her latest range with Moda) in which Jen combined a range of hues within a narrow palette of blues, greens and greys & a playful mix of prints.
The result is sophisticated & refined with a touch of whimsy - Jen mixed techniques of machine, hand piecing and appliqué to create this hybrid sampler style / medallion quilt.
As a wholesale participant, you will have the opportunity to provide your customers with a pattern and template only program. Jen has used her latest range Greenstone to make her original design. This makes ordering and sending the fabric for this program incredibly easy.
As usual, Jen will be providing hints and tips videos. We will also be managing a Facebook group for program participants.
Jen is also offering FREE access to her online hand piecing and appliqué classes to further enhance participants skills and to aid in alleviating any anxieties they may have about piecing curves or appliquéing.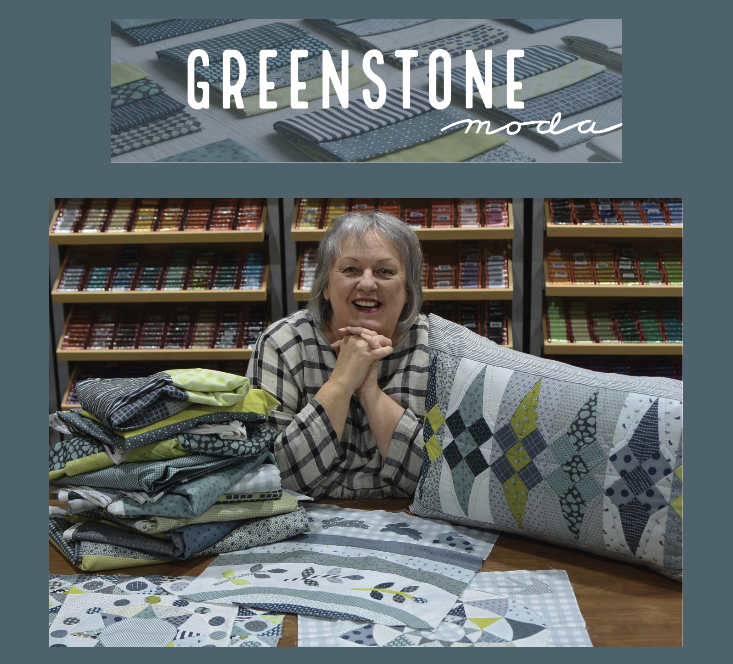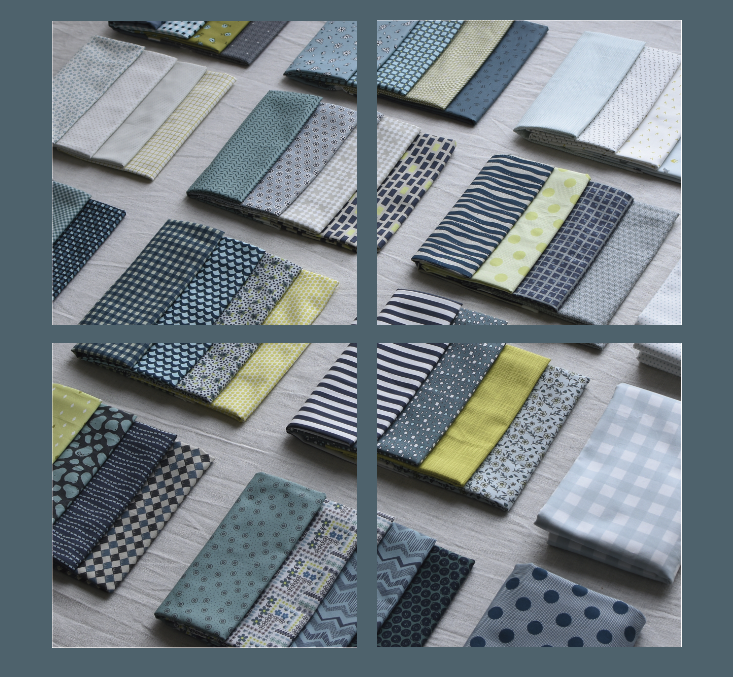 About The Quilt
The finished quilt measures 66" square.
Burrows & Boughs combines a mix of techniques: machine, hand piecing and appliqué.
Templates are not divided evenly throughout months due to the nature of the quilt and fabric design.
Program Pricing

Pricing for Burrows & Boughs is tiered depending on the number of programs you are signing up for.
Prices exclude shipping, handling, and GST (where applicable)
Minimum sign-up of 10 programs per participating shop.
To obtain pricing details, please email

bom@jenkingwelldesigns.com

.
Program Details
Each month participants will receive:

Printed instructions and templates.
Monthly hints and tips videos to help piece each block (via the group Facebook page).
Free access to Jen's online hand piecing and appliqué classes.

Programs will be shipped the middle of the month, beginning when fabric is released by Moda – Approximately June 2023

Multiple months may be shipped at once to reduce shipping costs.
Program numbers can be increased at any point throughout the program.
Images for marketing can be found

here

.
Fabric Details
If providing fabric, over the course of the program, participants will require 12.35 m of fabric.
This is made up of varying lengths each month, due to the design of the quilt and fabric.
To obtain details of the Greenstone fabric requirements for each kit, please email

bom@jenkingwelldesigns.com

.
To Sign Up